Contributions through Use of Company Resources
Nichirei uses land it owns in areas with a thriving natural environment for a number of activities, including research, environmental protection and regional activities.
1. Chichijima, Ogasawara Islands
The Nitto Ice Manufacturing Company set up an ice-making plant on Chichijima, one of the Ogasawara islands. The plant survived the confiscation of Ogasawara by the US military at the end of World War II, and when the island was returned to Japan in 1968 the land and buildings were registered as the property of Nichirei. Chichijima had a number of cultural activities that were flourishing at the time, including the production of crafts made using Pandanus boninensis leaves, and hula dancing by local groups. We wanted our facilities to be used for those pursuits, so we restored the site by demolishing existing buildings and planting grass.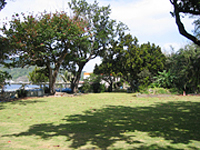 Restored former factory site
Nichirei owns land near Lake Hibara, in the Urabandai area of Fukushima Prefecture. In nearby areas, we support environmental research, on the basis of which are conducted environment- and biodiversity-related conservation activities that we also support. Following the eruption of Mount Bandai in 1888, all vegetation disappeared from the Urabandai area. Now, more than 120 years later, the vegetation has returned, resulting in forests of red pine, a proliferation of white willows, reed-filled wetlands, and aquatic plant clusters in the marshlands. While the forests of red pine and larch were planted on the Urabandai tablelands by local residents who wanted greenery to return to the area, Nichirei's land provides a valuable opportunity for experiencing the untouched, yet ever-changing face of nature.
Since FY2012, we have been supporting a project, run by Fukushima University's Practical Education Promotion Center, to study the area's environmental symbiosis and regeneration. In addition, we donate to the Sparkling Water Bandai Mizumirai Fund (Lake Inawashiro/Lake Urabandai Aquatic Environment Conservation Measures Association), which promotes the conservation of aquatic environments in Lake Inawashiro and the Lake Urabandai basin. By disseminating information about its activities and expanding the circle of understanding and support, this fund passes along to future generations the Lake Inawashiro and Urabandai wetland areas in pristine condition. In February 2012, as part of the aquatic environment conservation activities conducted by the Mizumirai Fund, Nichirei collaborated with Fukushima University to publish the Urabandai Goshikimeki Lakes and Swamps Aquatic Plant Guide (available only in Japanese). We plan to continue supporting environmental protection activities not just for company land, but also for the natural environment throughout Urabandai.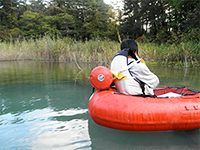 Research being conducted by Fukushima University (1)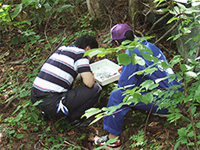 Research being conducted by Fukushima University (2)
3. Solar Power Business: Nichirei Solar Town
In November 2013, Nichirei launched its solar power business in two regions: Takeuchi Danchi in Sakaiminato City, Tottori Prefecture and Takaramachi in Kushiro City, Hokkaido. Following the 2011 Great East Japan Earthquake, Japan adopted the expansion of renewable energy as a national policy, with solar power receiving particular attention. Nichirei had also already been exploring commercialization of solar power, a form of clean energy.
Our unused plots of land in Takeuchi Danchi and Takaramachi were suitable for solar power generation, so we set up a solar power business at these locations under the name "Nichirei Solar Town." In this business, we help to lessen environmental impact and put idle land to good use.
MIRAI terrace is a Company-run children's daycare facility that opened in April 2018. In addition to enhancing workplace support for Nichirei Group employees, the facility is also available for use by people living in the neighborhood of our head office building in Chuo City, Tokyo.