Creating Savory Moments
Making Japan's Food Culture Even Better
Since its founding, Nichirei has been a pioneer in the food industry and has developed a wide range of businesses that have made us more than just simply a food producer.
Our core business is built on cooling power: the ability to ensure the long-term storage of food and, at the same time, preserve the original quality of the raw ingredients used. This has enabled us to make Japan's food culture even better, by meeting the expectations, and earning the trust, of society as we seek further growth.

Processed Foods Business

Honkaku-Itame Cha-Han (fried rice), has produced top sales in the frozen fried rice category for 22 consecutive years. Among its numerous frozen family dinners, Nichirei Foods produces and sells Honkaku-Itame Cha-Han (fried rice) and Tokukara (fried chicken). In addition, it makes supermarket delicatessen and frozen foods for commercial use in restaurants.
Source: Intage SRI+ (March 2017–February 2023) for frozen food/fried rice market sales amount (cumulative)
Source: Intage SRI (March 2001–February 2017) for frozen food/fried rice market sales amount (cumulative)
Temperature-controlled Logistics Business

In Japan and overseas, the Nichirei Logistics Group owns refrigerated warehousing for a total of 2,256 thousand tons. In terms of the average capacity of refrigerators generally used in Japan, this is equivalent to about 11.2 million units. With its temperature-controlled logistics, the Group stores, transports, and delivers frozen foods, water, livestock, poultry, and agricultural products that require controlled temperatures.
Marine, Meat and Poultry Products Business

Nichirei Fresh procures fresh, high-quality meat (from cattle and pigs), poultry, and marine products (such as shrimp, roe, shellfish, and octopus) from around the world.
Bioscience Business

Nichirei Bioscience is engaged in businesses that support health. One of these businesses involves the next issue of rapid diagnostic agents, including the influenza diagnostic kit. It allows the presence of an influenza infection to be detected within five minutes when the result is negative. Another enterprise is the molecular diagnostic agent business, which produces various cancer diagnostic agents.

The Nichirei Group is expanding its business initiatives in areas, including marine, meat and poultry products; bioscience; and real estate. Its main focus, however, is on processed foods and logistics.
Each of the companies under the holding company—responsible for overall Group strategy—aims to create new value for customers through the flexible conduct of business and by planning to raise corporate value over the medium- to-long term.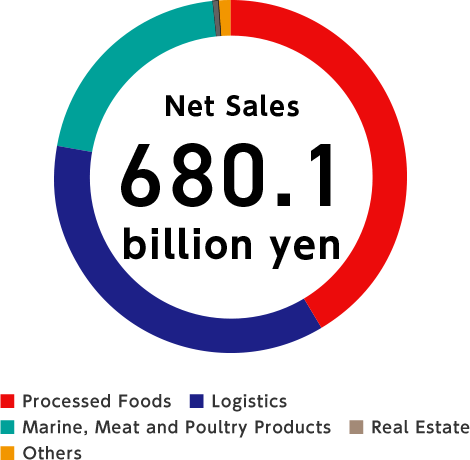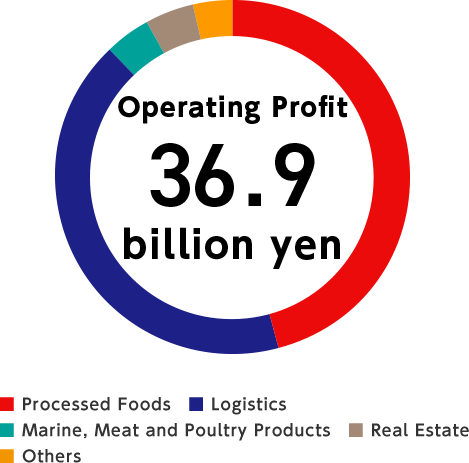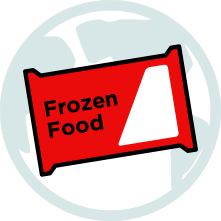 Processed Foods

Accelerating sales expansion in the North American Asian food market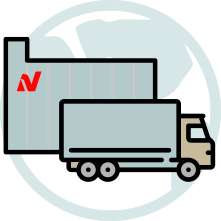 Temperature-controlled Logistics

Promoting comprehensive logistics services in Europe based in The Netherlands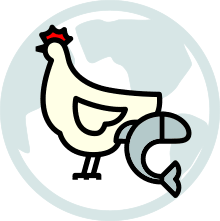 Marine, Meat and Poultry Products

Strengthening sales in large-scale markets of China and North America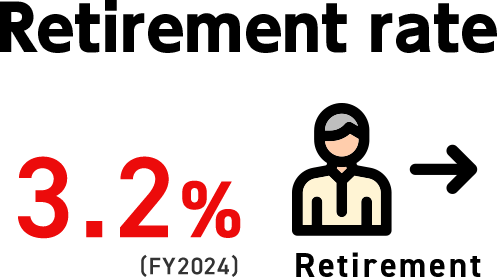 In conducting business, the Nichirei Group places the highest importance on human assets. Further, in order to invigorate our organization, improve productivity, and create a vibrant workplace it is not only on our values and ideas that we depend but, to a large extent, on our diverse human assets. In 2017, we formulated the Nichirei Group Workplace Improvement Policy, set targets for each Group company based on it, and commenced promoting a number of initiatives over a five-year period to FY2022.
Each fiscal year, the Nichirei Group provides employees with a one-year educational program. It is devised by the Human Resources Committee in accordance with Group Education and Training Rules to support the career advancement of each employee. In addition, to improve employees' skills, we conduct e-learning courses focused on quality, safety, governance, and compliance for all employees in Japan using the Nichirei intranet.

The Nichirei Group has devised the Nichirei Group Environmental Policies focused on three priority issues: prevention of global warming, promotion of sustainable recycling, and living in harmony with nature.
Since Group activities span the entire supply chain—food factories, logistics centers, and other worksites—it must play a part in the environmental initiatives and activities of both its customers and business partners. At the same time, the Group is aware of the substantial impact that climate change is having on its business, as its support of food-related infrastructure depends on natural ecosystems for raw materials. Accordingly, the Group and its business partners undertake the following: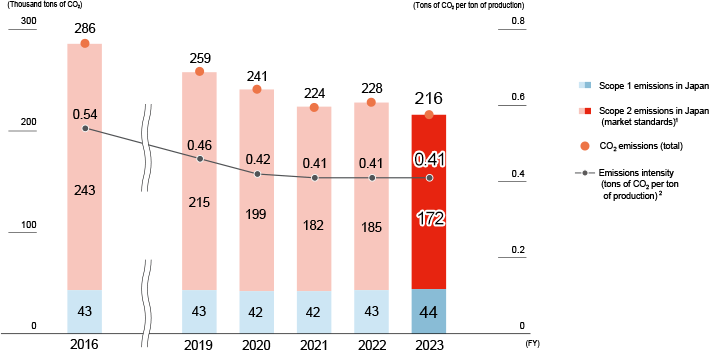 Notes:
Fixed power emission coefficient: The CO2 emission intensity unit of 0.412 [t-CO2/MWh] announced by the Federation of Electric Power Companies of Japan in FY2010, used nationwide.
Variable power emission coefficient: Power conversion coefficient used by power companies in fiscal year utilized at each worksite.
Scope of power emission intensity: Nichirei Foods (Nichirei Foods-operated factories and affiliated factories in Japan)
and Nichirei Fresh (affiliated factories in Japan). Excluding the following factories: Nichirei Foods: Nichirei Ice Inc.; Nichirei Fresh: Nichirei Fresh Farm Inc., Fresh Chicken Karumai Inc., Fresh Meat Sakudaira Inc.



A 1957 Antarctic research expedition consumed 69 types of frozen foods provided by Nippon Reizo. Totaling some 20 tons, the food included frozen vegetables and chawanmushi (steamed egg hotchpotch). Since they can be stored frozen, the vegetables played an important part in maintaining the health of expedition members.


During the 1964 Tokyo Olympics, Nichirei provided more than 5,000 athletes with frozen foods. Until then, frozen foods had been used only for commercial purposes. But from then on, top-class chefs studied what the best flavors and cooking methods were for frozen foods.