Food and Logistics-related Education Making Use of Business Characteristics
Nichirei uses knowledge acquired through its business activities to offer social studies experiences focusing on dietary education and logistics.
1. Dietary Education Programs
Nichirei Foods conducts various dietary education programs to promote a healthy future for all children.
Food is indispensable and intricately connected to our everyday life, and good eating habits nurture physical and mental well-being. In order that children may grow up to be healthy, it is essential that they understand the importance of food and are able to make appropriate and informed dietary choices. Nichirei Foods conducts various initiatives that offer children and adults the opportunity to learn and think about food, and take part in practical activities.
KidZania Tokyo and KidZania Koshien
KidZania is a place where children take center stage. They can try out the jobs that they aspire to when they grow up and have fun learning about how society works. We operate a "Food R&D Center" at KidZania. In developing fried rice and grilled rice ball meals, children can think about diet, eating habits and the connection between delicious food and the five senses, in particular taste, aroma, appearance and texture.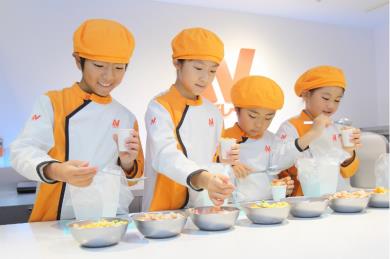 Virtual Factory Tours through Classroom Visits
Employees of Nichirei Foods visit classrooms to talk about frozen food manufacturing processes using videos and a slideshow. Under the concept "See! Learn! Enjoy!", topics include the production of frozen foods such as Honkaku-Itame Cha-Han (fried rice) and Imagawa-Yaki (Japanese waffle). Both educational and entertaining, the program is full of quiz questions about frozen foods and footage of scenes that children might otherwise never see—even on an actual factory tour. Students thus learn about Nichirei Foods' careful approach to manufacturing and the merits of frozen food. Classroom visits are fun and engaging, as evidenced by the intent gazes and smiling faces of the children as they watch the videos.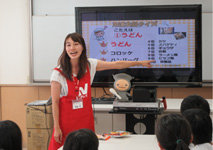 2.Workplace Tours and Work Experience
All Nichirei Group member companies offer work experience opportunities for junior high school students.