Food Safety Center Initiatives
Food Safety Center Initiatives
The Nichirei Quality Assurance Divisions Food Safety Center is the Groups inspection and analysis arm. It verifies that the appropriate quality assurance activities are being undertaken at our operating companies.
Inspectors mostly check for residual agricultural chemicals in frozen vegetables, and for veterinary drugs (such as antibiotics and synthetic antimicrobial drugs) in marine/livestock products and their processed derivatives.
They not only decide if test results are in compliance with food hygiene laws, but also provide our operating companies with feedback, even if detected elements are within acceptable limits. This enables the companies to assess whether appropriate steps are being taken to manage the use of chemicals and drugs, and to prevent them from exceeding acceptable levels.
Currently we are checking for agrochemicals and veterinary drugs in over 400 items but, in order to measure minuscule amounts of these elements, one needs to apply powerful analysis technologies.
Reflecting the increased concern about the radioactive contamination of food following the nuclear accident at the Fukushima Daiichi Nuclear Plants in 2011, the Food Safety Center monitors radioactive substances in the products and ingredients handled by the Nichirei Group using a NaI (Tl) scintillation spectrometer.
About the Jinzhu (Yantai) Food Research and Development Co., Ltd
If we are to provide our customers with Chinese-manufactured products that are safe and of consistently good quality, we need to inspect the manufacturing plants in China to ensure they meet Nichireis standards before the products are shipped to Japan. This would ensure that we only import products that we have ascertained to be safe.
To this end, in FY2005 we set up the Jinzhu (Yantai) Food Research and Development Co., Ltd. in Shandong province, as part of a joint venture with the Nisshin Seifun Group. The analysis and R&D company?which received certification from the China National Accreditation Service for Conformity Assessment based on the ISO/IEC17025 international laboratory certification standards?operates with the latest equipment, and we are working hard to maintain and improve the accuracy of its analysis capabilities.
This research arm enables our operating companies to analyze residual agrochemicals/veterinary drugs (antibiotics/synthetic antimicrobials) and food additives in ingredients and intermediate products used in items produced in China. Likewise, they can assess whether they meet Nichirei standards and conform to the Companys safety standards.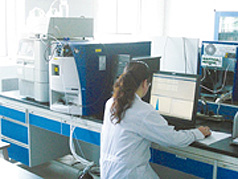 The Jinzhu (Yantai) Food Research and Development Co., Ltd. conducts the same level of analyses on products made in China as the Food Safety Center does on Japan-made products. The collaboration between the two bodies has allowed for an efficient inspection system to be set up for agrochemical and veterinary drug analysis.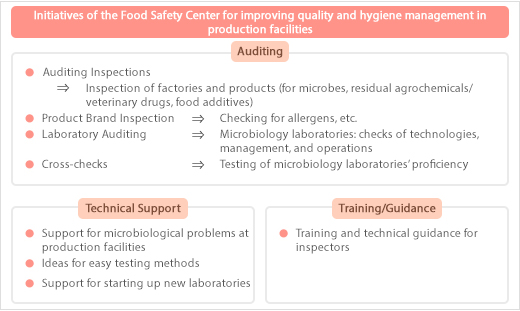 Auditing
Auditing takes into account the production volume of operating companies and the associated risks to formulate a yearly auditing plan.
Auditing Inspections
These inspections require that samples be taken of target products (immediately after production for products made in Japan; on arrival in Japan for products made elsewhere). The inspections cover microbes, residual agrochemicals/veterinary drugs, and food additives. Since many ingredients are produced in China, we also rely on the Jinzhu Food Research and Development Co., Ltd. to do auditing inspections at earlier stages.
Laboratory Auditing
This involves on-location inspection of the laboratory equipment of production facilities, the skills of the laboratory technicians, as well as the management and operation of test results. Inspections are required to meet the standards outlined in the Nichirei Group Quality Inspection Guidelines and inspection manuals. The manuals lay out Nichirei's proprietary standards for conducting food inspections as dictated by the rules and standards of relevant food hygiene laws.
Cross-checks
Every year, cross-checking is conducted to verify inspectors' proficiency. Training and guidance is provided for any laboratories deemed non-compliant.
Technical Support
This support is given to resolve microbial problems at production facilities and provide laboratory guidance when new factories are opened.
Thus, should any products not meet the Nichirei Group's shipping standards, those tasked with providing support would research the cause of the problem while handling the relevant analyses. These might be difficult for production facility laboratories to conduct, and might include environmental investigations and analysis of microbial DNA. By conducting such investigations and analyses, we can maintain appropriate production environments and help avoiding the release of defective products.
In future, we plan to expand the scope of these activities, by improving such aspects of food quality as flavor and appearance.
Training/Guidance
The Company provides training to improve inspectors' skills, and guidance when cross-checking finds factories to be non-compliant with rules and regulations.
The inspectors are required to undergo regular instruction throughout the year at the Food Safety Center. This involves observing actual microbial inspections, as well as receiving technical guidance in fundamental and more advanced inspection techniques.
In 2011, we began providing factory inspectors with special training designed to enable them to handle hygiene problems at their plants. They considered case studies, and were taught the basics of bacteriology and how to use the data available to them.