Nichirei Brand Inspection System
About our brand inspection system
A Brand Inspection System has been set up by Nichirei's Quality Assurance Division. This has been done to certify the quality of all merchandise that bears our brand, in order to maintain the trust that consumers place in the safety and quality of our foods.
Brand inspections comprise factory and product checks. They are conducted prior to the start of production at the manufacturing facilities of all companies using the Nichirei brand.
The factory inspections evaluate factory production facilities, while product inspections verify the safety of products. Only items that have passed both inspections may be sold under the Nichirei brand.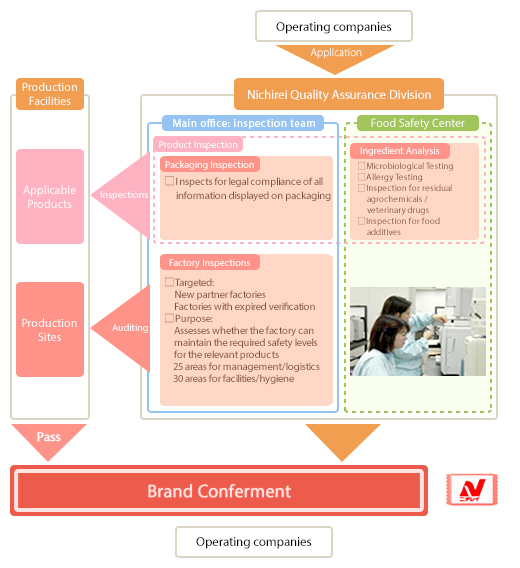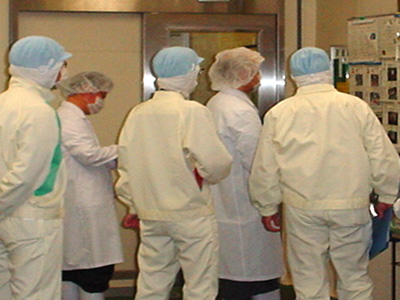 ・After an initial evaluation and guidance from the operating company, our trained factory inspectors ensure they go to the applicable factory to conduct the inspection.
・Inspections check 25 items in the areas of management/logistics, and 30 items in the areas of facilities/hygiene, which are again subdivided into 150 items.
・Production of Nichirei branded products cannot proceed unless a factory passes both the management/logistics and facilities/hygiene inspections.
Sample Factory Inspection (Evaluation of the following items)
Area

Items

Evaluation

Is there an appropriate allergen management system?
(1) Do they have a system for identifying the allergens contained in the factory's products and for managing them appropriately? Can they check the allergens off against a list of product ingredients and specifications?
Five-level evaluation
(2) Are employees being taught about allergic reactions and allergen management?