Medium-term Business Plan
Considering the mounting instability in the global economy, we expect fluctuations in exchange rates, raw material prices, and energy costs to continue. In Japan, we anticipate the diversification of consumption patterns brought about by changes in family composition and lifestyles, while various costs continue to rise amid labor shortages.
Under the new business plan, while accurately gauging the changes in the operating environment, we aim to realize sustainable profit growth and the creation of new value that supports a good dietary life and health, underpinned by capital expenditures to drive growth and strengthen the business foundation especially in the processed foods and logistics businesses.
Notes:
Coined word "WeWill" is the theme of Nichirei's present medium-term business plan. It represents plan initiatives and our strong intention to create our own future.
Sustainable Growth from Raising Profitability in Japan and Expanding Overseas Operations
General Strategy
Main Measures
(1) Realize sustainable profit growth
In Japan
Raise profitability in Japan by strengthening the management foundation and transforming the business structure.
i. Continued growth in Processed Foods, and steady expansion in Logistics.
ii. Allocate resources to further strengthen competitiveness in mainstay businesses.
・Growth investments in Japan and overseas
・Investments to strengthen foundations, including environmental measures
iii. Reinforce efforts to develop new businesses, conduct R&D, and reform businesses
Overseas
Accelerate the expansion of scale in overseas operations.
(2) Improve capital efficiency and expand shareholder returns
Maintain ROE of 10 % or higher, revise dividend standard.
(3) Create new value that supports a good dietary life and health
Help communities deal with issues they face through our businesses.
2. Consolidated Target Figures
(Billions of yen)
| | FY19/3 Results | FY22/3 Business Plan | Variance | Annual Average Growth Rate |
| --- | --- | --- | --- | --- |
| Net sales | 580.1 | 657.0 | 76.9 | 4.2 % |
| Overseas sales | 79.2 | 102.3 | 23.1 | 8.9 % |
| Operating profit | 29.5 | 35.0 | 5.5 | 5.9 % |
| Operating profit/net sales | 5.1 % | 5.3 % | 0.2 pp | - |
| Profit | 19.9 | 22.0 | 2.1 | 3.3 % |
| EBITDA* | 47.0 | 57.6 | 10.6 | 7.0 % |
| ROE | 11.7 % | 10 % or higher | | |
| EPS | 149.7 yen | 164.9 yen or higher | | |
* EBITDA = Operating profit + Depreciation expense (including lease, excluding goodwill)
1. Proactive Capital Investments to Strengthen Competitiveness
Growth investments in Japan and overseas
Continue investments to strengthen foundations, including long-term use of facilities and greater efficiency, and environmental measures
Strengthen measures for operational reforms
2. Strengthen Measures for a Long-term Perspective
Focus on R&D and new business development, and work to create new growth drivers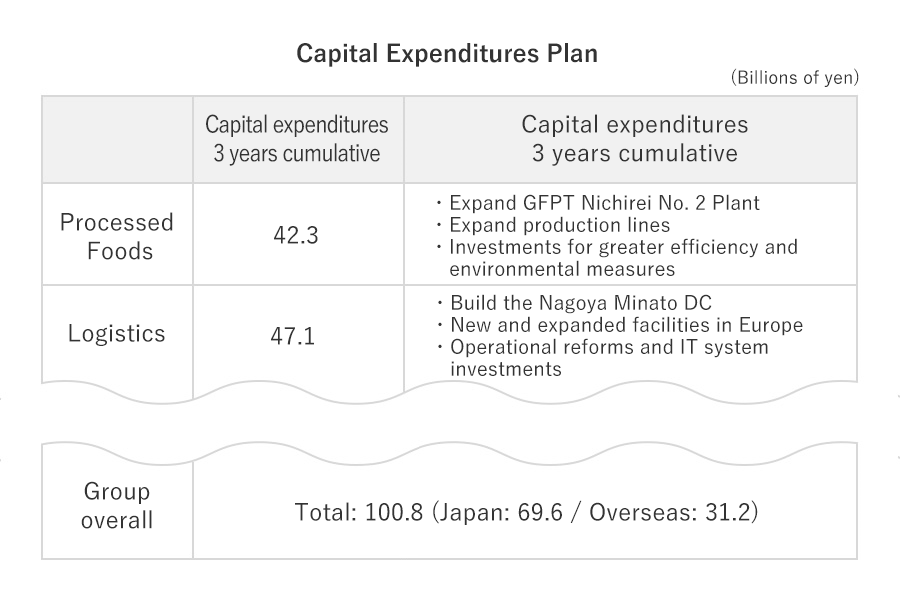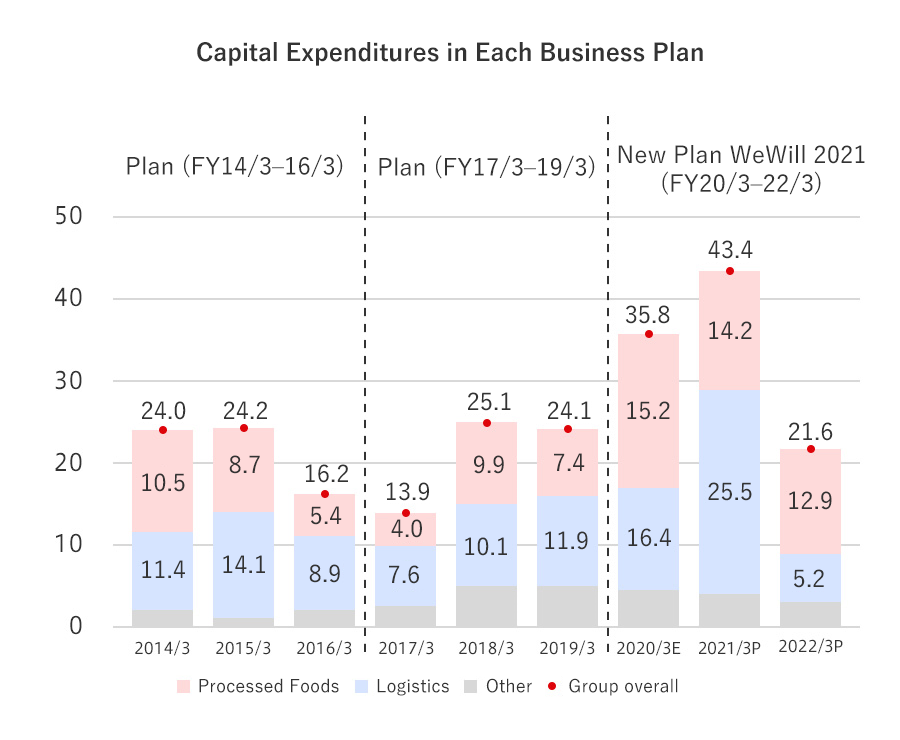 Secure financial soundness to support proactive investment, and maintain ROE at 10 % or higher.
2. Expanded Shareholder Returns
Revise dividend standard aiming for 3.0 % DOE (dividend on equity) and maintain stable dividend.
Consider flexible stock buy-backs based on medium-term outlook for business environment and financial condition.
Absorb the increase in depreciation stemming from capital investment, and strategic costs such as research and development, and secure earnings growth of around 6 % annually over the plan period, with 7 % growth in EBITDA.
Processed Foods: Increase earnings through expanded sales in Japan and overseas.
Marine Products, Meat and Poultry: Secure stable earnings.
Logistics: Steady earnings growth from expanded cargo collections
Real Estate: Earnings decline due to renovations of certain leased buildings.
Adjustments: Increase in strategic costs such as R&D and IT systems.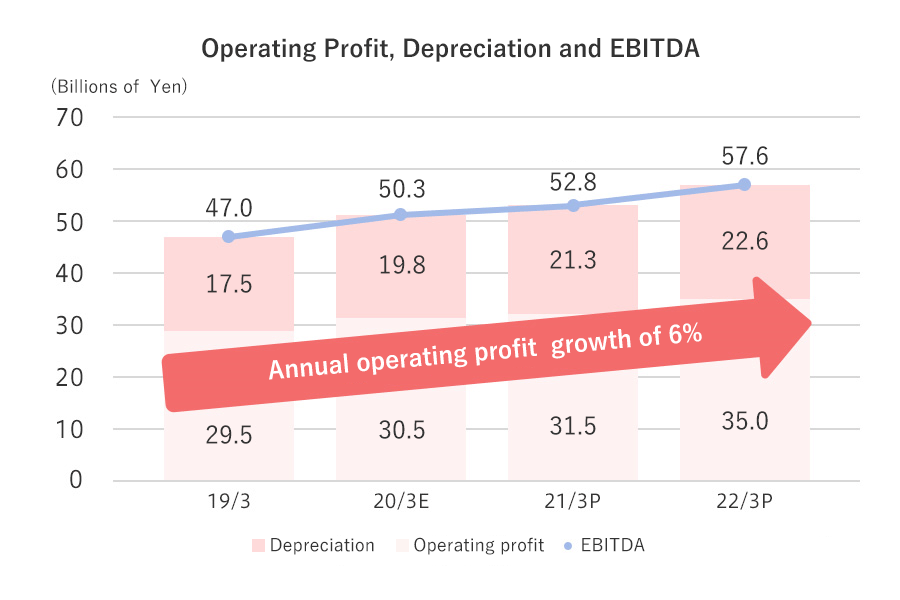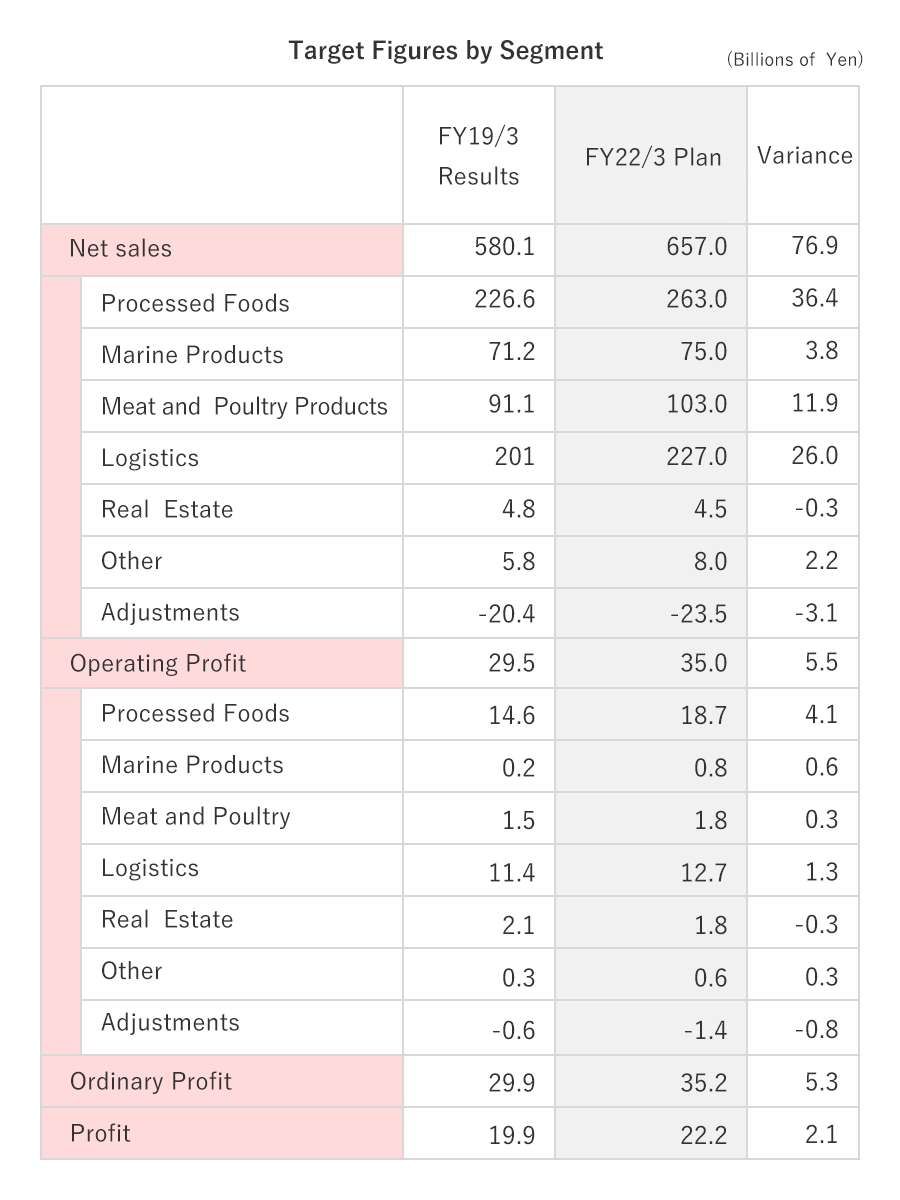 The Nichirei Group, based on its CSR policy the Nichirei Pledge, through efforts to create new value that supports a good dietary life and health, aims to contribute to solving social problems and makes communities more sustainable.
Create new customer value
Provide safe foods and services
Build a sustainable supply chain
Reduce the environmental load and respond to climate change
Enhance corporate governance