Management Cycle
Nichirei uses self-management tools to create new value for customers.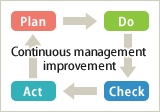 The Nichirei Group has in place a self-management system based on the framework of the Japan Quality Awards. Nichirei Corporation and its Group businesses follow a plan-do-check-act (PDCA) cycle to ensure that management improvement is ongoing.
Each Group company creates an organizational profile outlining the current state of its business, and its strategy to achieve management goals. The profiles form the basis of the medium-term plan (currently of three years' duration). The Nichirei Strategy Council reviews the plans, and reaches a consensus regarding the next fiscal year's strategies (management policy; budget proposals). The proposed management policies and budgets are presented at the Commitment Conference held at the end of each fiscal year, and shared as common goals by all Group company divisions. Progress in achieving the goals is reviewed each quarter during the Monitoring Conference and, should results fall short of targets or be delayed, remedial measures are considered.