Creating an Employee-Focused Workplace
1. The Nichirei Group Philosophy
The Group believes that customer satisfaction (CS) and employee satisfaction (ES) are like two pillars that support the entire Group, so we regularly conduct ES surveys at each member company. We aim to improve employees' ability to attain their work goals, and create employee-focused workplaces by moving through a plan-do-check-act (PDCA) cycle, comprising conducting surveys → giving feedback on survey results → identifying issues and assigning priorities and, finally → planning and executing solutions. Twice a year, all Group member companies' CEOs and heads of human resources meet with the Group Human Assets Committee to share information regarding the progress of planned and implemented solutions, with strategies put in place to implement effective solutions throughout each member company.
2. Group Member Initiatives
Nichirei Foods establishes new personnel system.
Recognizing that work styles and preferences are diverse, Nichirei Foods revised its personnel system for managers in July 2015, and for regular employees in October 2016. Through this structure, it hopes to ensure that the company's mission and vision are accomplished, while creating more dynamic workplace environments in which all members can demonstrate their individual potential.
The company introduced a set of new job categories following a review of its in-house rules, and revised its remuneration and evaluation systems. Based on the new system, it aims to entirely transform its corporate culture, placing more emphasis on career development and individual autonomy at work.
Given the diversity of working styles, Nichirei Foods will work to ensure that each person finds fulfillment in his or her work, without constraining them according to preconceived conventional notions of how duties should be performed. By establishing a management system that makes the most of individual talent, the Company is nurturing a corporate culture in which every member can apply their skills and express their individuality.
Employee-management discussions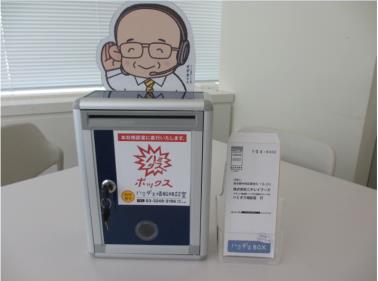 Opinion Box
HAMIDASU Information Consultation Center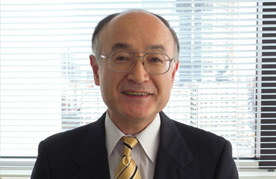 At Nichrei Foods, roundtable discussions between employees and management are held for the purpose of facilitating open communication in the workplace and raising awareness of the company's mission and vision. From FY2012 through to the end of FY2020, over 5,581 employees and managers participated in a total of 490 discussions.
At the FY2013 round tables, many comments were made concerning how the quality of our logistics management might be improved. This led to the creation of a Logistics Improvement Project.
In 2013, we noticed there were many comments from people who did not know whom to consult regarding questions they had, so we set up the Information Consultation Center.
The fundamental concept of the center is to enable people to be connected. Those at the center are the contact points for employees who do not know to whom to direct questions, or where in the Company they can find the information they seek. To date, the HAMIDASU Information Consultation Center has been consulted on more than 670 occasions. We thus have installed Suggestion Boxes and information posters at each factory, to make it easy for production facility employees to consult the center.
Nichirei Fresh has been holding karumaza meetings at each of its workplaces, while, since 2007, affiliated company organizations have held twice-yearly meetings with all employees attending. These meetings were created to enable management and CEOs to pass on company information, future strategies, and new company ideas, as well as to share workplace issues through direct dialogue with employees. We intend to continue stimulating companywide communication through these activities.
The Nichirei Logistics Group believes that customer satisfaction (CS) and employee satisfaction (ES) are the two pillars that support business operations. Thus, since 2005, Nichirei Logistics has created a workplace environment that focuses on the fulfillment of work-related goals as its main ES theme. In FY2015, the Company created a Fulfillment-focused Workplace Creation Promotion Standards Guide in order to develop and entrench activities designed to allow fulfillment-focused workplaces to be created as a permanent initiative of the Logistics Group. By making employees aware of this textbook-style guide, which makes the positioning, meaning, and promotional structure of our initiatives transparent, we have been able to share them at the same level of understanding spanning into the future.
In addition, reflecting their wish always to be chosen by our customers in the food logistics industry, the Nichirei Logistics Group picked as its brand slogan, "Work that is forever in demand" and, in 2008, established an award by the same name. It goes to front-line employees who, according to colleagues and customers, provide superior customer service. The award goes to many teams and individuals each year. We plan to continue linking the initiatives to the Nichirei Logistics Group's important management policies of creating a goal-focused workplace and improving customer satisfaction.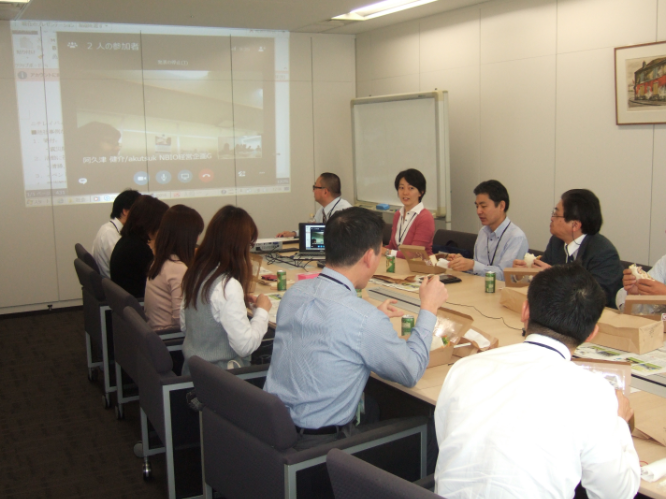 In FY2015, Nichirei Biosciences introduced bring-your-own-lunch meetings to provide opportunities for members of all departments to hold free discussions in a relaxed environment during lunchtime.
At the final meeting of FY2016, the participants discussed suitable ways in which Nichirei Biosciences might contribute to society. They suggested many alternatives for social contributions, citing collaborative activities outside Japan, experience in ecological initiatives, and individual donations.
Nichirei Biosciences believes that, by continuing to use these methods, it will become an exciting company of which its bright, positive employees-who tend to carefully think through problems-will be proud.
To ensure consistent support for employees experiencing difficulties in reaching decisions at work, Nichirei Biosciences incorporated the concept of mutual support in its management principles and performance indicators. To promote the concept among employees, the head of the Planning and Administration Department has been issuing a weekly e-mail magazine. Used as a communication tool across all departments, the magazine also features relevant examples of support at other companies.
One of the goals of the Nichirei Group's basic CSR policy, the Nichirei Pledge, is to "continue to enhance our workplaces." Toward that end, Nichirei Corporation has been carrying out an employee satisfaction survey and various other activities in each of its departments.
Based on the idea that job satisfaction is not produced by the Company but, rather, results from employee initiatives, the Company held discussions in each department regarding how to create a workplace in which it is satisfying to work, and then took the requisite actions.
In fiscal 2017, a Company-wide meeting on job satisfaction was held, in which managers responsible for enhancing job satisfaction in each department presented the activities of their respective departments. Effective initiatives presented at the meeting are being implemented throughout the entire Company.
3. Making Workplaces Safe and Comfortable
The Nichirei Group practices health and safety management with the goals of eliminating accidents in the workplace and helping employees take care of their physical and mental health. In this context, the Group established its Occupational Safety and Health Committee in accordance with Japan's Industrial Safety and Health Law.
At each subsidiary, food production plant, and distribution center, measures are taken to maintain a safe and healthy workplace environment and implement improvements.
The Group also created an employee assistance program in collaboration with a counseling service provider, through which it offers employees access to counseling related to problem solving, stress management, and career planning. In FY2017, some 200 consultations were handled under the program Group-wide, involving workplace, family, and personal issues.
In order to promote good health management among its employees, the Nichirei Group employs a team of four industrial physicians, of whom two specialize in psychosomatic medicine, and three public health nurses.
Forklift operators compete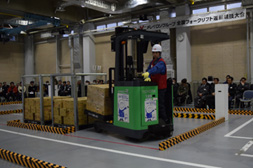 A forklift operator competing in an event.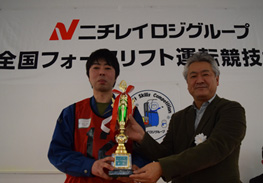 The competition winner is presented a trophy.
On February 11, 2017, the Nichirei Logistics Group held its first nationwide forklift skills competition. During the competition, 13 forklift operators who had won preliminary competitions in each region of Japan along with two exhibition operators competed against each other in forklift operator skill-related events before some 200 spectators.
The forklift operators were ranked based on composite scores from skills assessments, judges' evaluations, and written tests. In the top three places are:
First: 秋山 講平 (ロジスティクス・ネットワーク入間DC: 葵企業(株))
Second: 丸山 康之 (ニチレイ・ロジスティクス関東 横浜南DC: (株)東京ニチレイサービス)
Third: 木村 順平 (キョクレイ 厚木DC: 吉川運輸(株))
The competition was held to show the Nichirei Logistics Group's commitment to placing the highest priority on customers, safety, and quality, which are the corner stones of its business activities. The Group will continue working to improve its customer satisfaction, safety, and quality standards.
New safety and quality training centers open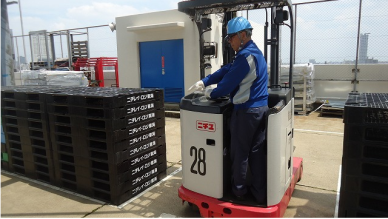 Reflecting its management principle of giving the highest priority to quality, environmental, and safety issues, the Nichirei Logistics Group has opened safety and quality training centers across Japan. They are designed to enable personnel working at logistics centers to acquire the relevant knowledge, skills, and awareness.
In three of the courses offered, participants gain knowledge in the classroom, experience simulated risks, and practice operating forklifts to confirm their basic skills. While experience and practical skills are emphasized, in order that trainees might learn intuitively, videos and illustrations are also used extensively in the classroom.
Veteran and former employees with abundant expertise and experience serve as instructors, and supplement the lectures with hands-on experience to further improve safety and quality.
Following the establishment of a training center in the Tokai region in February 2016, the Nichirei Logistics Group opened centers for the Tokyo, Osaka, Chugoku-Shikoku, and Kyushu regions.
Creating an Employee-Focused Workplace