Message from the Board of Directors
"We are working to meet the expectations of all stakeholders while fulfilling the Nichirei Pledge to make our communities more sustainable."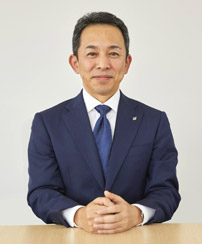 Underpinning all the business activities of the Nichirei Group is its goal to bring people genuine satisfaction, based on an understanding of their lifestyles. That means fully grasping the needs of consumers and their communities in order to create and provide products and services that customers will find of value and to their satisfaction. This goal is the cornerstone of our medium-term business plan, which commenced in fiscal 2016 and runs through fiscal 2018 (ending in March 2019).
It is by means of the Group's corporate social responsibility (CSR) initiatives that we plan to realize our goals. Thus, given the social trends of recent years, in April 2017 we replaced the Group's basic CSR policy with new procedures: the Nichirei Pledge. According to the Pledge, the entire Nichirei Group will strive to take its CSR initiatives to the next level.
In this CSR/Environment-related Practices section of our website, it gives us great pleasure to report on the Group's approach to CSR, as well as on related initiatives, all designed to help make communities more sustainable through the Group's business activities.
Please tell us about the progress being made under the medium-term business plan and how you are responding to changes in the operating environment.
Fiscal 2016 was the first year of our medium-term business plan, which extends through to fiscal 2018 (ending March 2019). The Nichirei Group was able to achieve the plan's targets for the period in all its areas of businesses, particularly the two core businesses of processed foods and logistics, and posted record-high profits.
Although we benefited from relatively stable exchange rates and declining prices of raw materials and electricity, the good results were mainly the result of measures to expand the scale of the Group's international operations and boost earnings by more efficiently using assets and strengthening our revenue base in Japan. We pursued these measures under the slogan of "Making strong businesses even stronger."
At the same time, our operating environment fluctuated dramatically, becoming increasingly uncertain. The United States is moving toward protectionism, Europe has been shaken by Britain's planned exit from the European Union, and economic growth is slowing down in China and other emerging countries. These and other factors are making the world more unstable politically, socially, and economically.
Japan's economy, meanwhile, has been picking up moderately, although consumer spending lacks dynamism, as can be seen from the shift to low-price strategies in the retail and restaurant markets. There are also concerns over labor shortage-induced rising costs, as well as fluctuations in exchange rates and crude oil prices.
Amid dramatic changes in the operating environment, we are determined to turn changes into opportunities as we aim for continuous growth. Since its founding, Nichirei has been keenly attuned to small signs that lead to larger trends, and has responded to the changes with speed and agility. That deep-rooted, unbroken company tradition enables us to continue fulfilling the Group's mission of bringing genuine satisfaction to people based on an understanding of their lifestyles.
Meanwhile, we recognize the importance of raising awareness about key global trends and events, including the adoption of the Sustainable Development Goals at the United Nations Sustainable Development Summit held in September 2015, and the Paris Agreement by the 21st Conference of the Parties at the United Nations Climate Change Conference held in December of the same year. The Nichirei Group has set environmental targets for fiscal 2020 and is now carrying out measures to achieve them. Nevertheless, we understand the need for a longer perspective. To this end, in future, related discussions will be encouraged within the Group.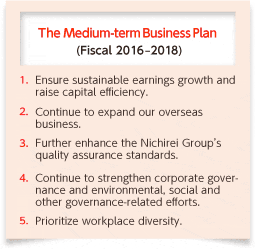 What is the background against which the Group's basic CSR policy became the Nichirei Pledge, and which CSR initiatives will you pursue in the future?
In the context of the major changes occurring today, we believed that it was necessary to reassess the impact on society of the Nichirei Group's business activities. We thus revised our basic CSR policy, specifically reworking the Group's Six Obligations as the Nichirei Pledge, while adding two items-"to provide safe products and services" and "to maintain a sustainable supply chain."
Providing safe products and services is a core principle of the Nichirei Group's business activities that we long have regarded as vital. The Group has carried out various measures in the past, including those to protect food and its production processes from intentional harm at food processing plants, because nothing is more important than ensuring the safety of food products and maintaining the trust of customers. Since product reliability comes from constantly ensuring safety, the entire Nichirei Group-including its logistics operations-has worked to realize this.
Integrating supply chain sustainability is a key success factor for the Nichirei Group's business activities. As the Group expanded its operations beyond Japan, its range of suppliers, customers, and other stakeholders broadened across the world. Therefore, it became necessary to fulfill our social responsibilities with a wider outlook, to include the entire supply chain. In order to effectively implement that shift, in April 2017 we established the Nichirei Group Sustainable Supply Chain Policy with the Nichirei Pledge, and are now working to gain the understanding and cooperation of our suppliers, so that we can procure goods and services in accordance with this basic policy.
What are you focusing on in order to create new value for customers, and what initiatives are you taking to achieve that?
Recently in Japan, women have come to play a greater role in society. With the population aging and the birthrate declining-as the number of single and two-person households has been increasing-the eating habits and preferences of consumers have been growing increasingly diverse. We thus recognize the need to examine how food products are enjoyed in a wide range of circumstances by customers with diverse lifestyles, in order to reflect their needs in product development.
That allows us to provide delicious, processed food products that are easy to prepare, which helps shorten the time people need to spend in the kitchen and allows them to prepare meals that suit all kinds of workday schedules and lifestyles.
In our logistics business, we are facilitating joint shipments among delivery companies, promoting a modal shift, and sharing logistics facilities and delivery trucks as a means of reducing our environmental impact and helping alleviate traffic congestion. Those initiatives are also helping people deal with the delivery-driver shortage that currently is a problem in Japan.
At present, the Group is focusing on diversity, in the belief that a variety of viewpoints is indispensable for responding to the increasingly diverse needs of consumers and their communities. Accordingly, we are drawing on the different values and ideas of our employees, who have a broad range of backgrounds, in an effort to channel those insights to the creation of new value for customers. A wide scope of perspectives will become increasingly important as the Group continues to expand. Indeed, we cannot enter food markets outside Japan without being fully prepared. Indeed, understanding the characteristics and needs of each local market is essential for our business growth. Therefore, we are making the most of our human resources and professional networks in every country where we operate.
What message would you like to give employees as they work to put the Nichirei Pledge into practice?
Collectively, the development of each employee amounts to the overall growth of our business, and there is no other way of moving the Nichirei Group forward except through our human resources. I hope and expect the Group's employees to be self-driven people, who can work and think independently. If our organizations comprise such people, then it follows that the Group will grow stronger.
In fiscal 2016, we held round-table discussions with members of each Group company. This gave us opportunities to hear many opinions from young employees: the Group's future leaders. I was impressed by the firm beliefs they held about their work in their respective positions, and how professionally they interacted with each other. In those discussions, they repeatedly mentioned the need to make our corporate culture more open to taking on challenges without the fear of failure. It is better for young employees to learn from a series of small mistakes early on, so that they will be able to effectively manage the risks involved in bigger failures in the future. Therefore, it is important for management to permit a certain amount of risk, to allow younger employees to take up challenges.
Together with our commitment to "continually enhance our workplaces," which is one item in the Nichirei Pledge, we established the Fundamental Policies for Workplace Improvement in April 2017. Based on that policy, we are committed to creating workplaces in which all employees can thrive by enabling diverse work styles, preventing excessive working hours, and improving productivity. As we push forward with workplace reforms, we are also placing importance on making all employees aware of the benefits of drawing on diversity. Regardless of whether there are many differences among people, conflicts will naturally occur between them if they do not interact with each other appropriately. Therefore, we must respect and accept differences, and make the most of them in order to create new value.
The next major turning point for the Nichirei Group will be its centenary. I hope that all employees can share their ideas and values with each other, while applying their creativity and imagination in their work so that the Nichirei Group can leverage its collective capabilities and continue doing business for another 100 years.