Support through Business Activities
1. Nichirei Foods: Supports Areas Hit by Great East Japan Earthquake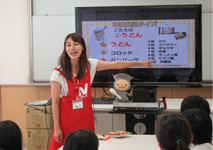 In an effort to support communities that have been affected by the massive earthquake and tsunami that struck Japan's Tohoku region in 2011, Nichirei Foods Inc. has organized cooking classes in temporary housing facilities.
Even after large numbers of people moved from those facilities, Nichirei Foods continued its support. Employees were sent schools to give students a virtual experience of a factory tour. Using audio-video materials showing an actual production plant, the employees gave the students easy-to-understand lessons about the processes involved in making frozen food products, Nichirei Foods' safety and security initiatives, and its fastidious manufacturing techniques.
In FY2017, the program was held at Wabuchi Elementary School in the city of Ishinomaki, Miyagi Prefecture, providing a fun virtual factory tour for enthusiastic children.
2. Forest of Life project
The Forest of Life is a project initiated by Nichirei Fresh with the goal of establishing sustainable and environmentally responsible materials procurement.
Conventional shrimp farming involves cutting down forests to create man-made ponds, raising shrimp on man-made composite feed, and consuming large amounts of electricity and fuel to provide the shrimp with oxygen as they grow. The environmental impact is huge. However, the extensive farming promoted by Nichirei Fresh involves allowing a rather scant number of shrimp to live freely in a large cultivation pond that makes use of the natural terrain and ecosystem.
The shrimp are fed plankton and aquatic plants in the pond, with no man-made feed required. In addition, since we use of the natural ebb and flow of the tides, we use no electricity or oil during farming and fishing. This is a model method of shrimp farming that is in symbiosis with the surrounding environment and ecosystem. Since the shrimp are raised in as natural an environment as possible, while avoiding farming density, they have plenty of room to grow and so reach much larger sizes.
Through local partner company MMA, Nichirei Fresh provides part of the proceeds generated by these shrimp farms for investment in mangrove tree-planting activities on Indonesia's island of Kalimantan, that has numerous farming ponds. The outcome we are helping to generate includes the recovery of the natural ecosystem, as a result of the tree-planting activities, and the continued improvement of the growth environment that is indispensable for the shrimp farming industry.
Although the project only began in 2006, we are moving forward with further conservation activities, including an initiative to buy the land rights to untouched mangrove forests in order to preserve them and prevent their development, in addition to the current environmental recovery program through tree-planting.
Your purchase of shrimp raised in the extensive shrimp farming system will help preserve untouched forests. Nichirei Fresh also hopes to expand this project to other countries.
3. Nichirei Biosciences: Donates Products in Myanmar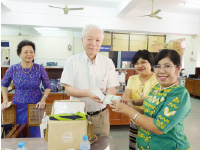 Since FY2007, Nichirei Biosciences Inc. has been providing, free of charge, antibodies used for pathological testing to medical institutions in Myanmar. The products are provided through the international public health division of Niigata University's School of Medicine. In Myanmar, 42 types of antibodies for immunostaining are difficult to obtain locally. Thus, antibodies and reagents necessary for medical examinations were donated to the University of Medicine 1, University of Medicine 2, and Yangon Children's Hospital, for use in research and medical treatment, including pathological testing, at each of those facilities.
In March 2017, Niigata University Professor Makoto Naito visited the University of Medicine 2 to personally deliver antibodies from Nichirei Biosciences to young pathologists in Myanmar, along with a manuscript containing a collection of pathological immunostaining case studies. The manuscript was compiled for the purpose of creating a manual on antibodies and pretreatment methods, as well as a pathology textbook jointly written by authors in Japan and Myanmar. Nichirei Biosciences remains committed to helping improve medical education and pathological research and diagnosis in Myanmar.
4. Support for hospitality guest house
There are over 500 incurable diseases of unknown original that affect children, and there are 200,000 children fighting these illnesses. It is impossible to calculate the financial burden and mental anguish inflicted on them and their families. The foundation A Dream A Day In Tokyo conducts activities to help give courage to children with major illnesses, reduce their family's anguish, and create happy memories during their trip to Tokyo. As an endorsee of the foundation's aims, the Nichirei Group provides support in the form of tours of Nichirei Foods and KidZania, and use of the Sukore Yukigaya training center for accommodations.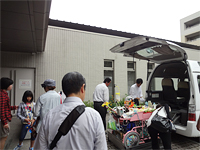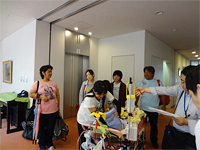 Nichirei's training center provides lodgings.
5. Cleanup activities
We carry out cleanups at our business bases nationwide, including the area around the Nichirei headquarters in Tsukiji, Chuo-ku, Tokyo.
Support through Business Activities