Japan Swimming Federation
Swimming is widely considered to be a national sport, and there are about 30 million enthusiasts in Japan. Nichirei support the activities of the Japan Swimming Federation, and hopes that swimming will become increasingly popular as a lifelong sport.
The Japan Swimming Federation's swimming tests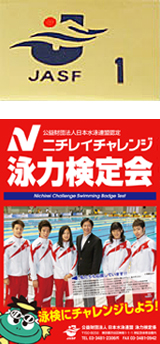 This Swimming Badge Tests are a nationwide, standardized certification system. Why not give it a shot?
The swimming certification system (Swimming Badge Tests) has been sanctioned by the Japan Swimming Federation which, set up in April 1998, determines unified standards nationwide for swimming certification. The standards are based on individual standards set by various schools, swim clubs, and regional groups across the country, so that a wide variety of swimming enthusiasts, from juniors to masters, can test their abilities.
The testing committee certifies participants in five levels, depending on category, distance, and time. It costs ¥300 to take one test, with the certificate and badge costing ¥500.
For details regarding swimming tests, please see the Japan Swimming Federation's website.
Sponsoring Sports for a Healthier Lifestyle