The Nichirei Group ensures that food is not wasted
Collaboration with food banks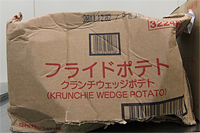 The content of a broken carton is hard to use.
Since July 2005, Nichirei Foods has backed the activities of the NPO food bank, Second Harvest Japan. Employees who had lived in the US were supportive of the food bank system that was spreading there. They decided they wanted Nichirei to contribute to similar activities and, while searching for a partner with which to work, discovered Second Harvest Japan.
Quite free of charge we provide the NPO with frozen foods that are not questionable in terms of quality, but which we could not sell in our usual markets for such reasons as that the outer packaging has been damaged in transit. With the help of the Nichirei Logistics Group, we use our refrigerated transports to deliver the products directly to institutions certified by Second Harvest Japan.