Food and Logistics Education Making Use of Business Characteristics
Nichirei uses knowledge acquired through its business activities to conduct social studies field trips focusing on healthy diets and logistics.
1.Food education activities
Nichirei Foods conducts various food education programs to promote a healthy future for all children.
Food is indispensable and intricately connected to our everyday life. Good eating habits nurture a healthy spirit and healthy body. In order that children may grow up healthy, it is important that they understand the importance of food and are able to choose it properly. Nichirei Foods conducts various initiatives designed to enable people to learn and think about food, and do related hands-on work with children.
KidZania Tokyo and KidZania Koshien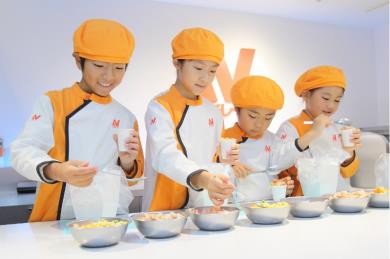 KidZania is a place where children take center stage. They can try out the jobs by which they have always been fascinated, and learn about the structure of society while having fun. We have set up a Food Development Center here, and use the development of fried rice and grilled rice balls to create opportunities for children to think about eating, food, and connections involving delicious food and the five senses, such as flavor, scent, and appearance.
Children on a factory tour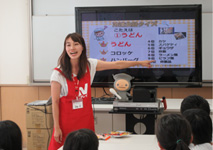 The concepts are See! Learn! Enjoy!, and Nichirei Foods employees are the teachers. They use videos and PowerPoint slides to explain the frozen food manufacturing process to elementary school students, including the production of frozen food products like Chinese-style fried rice and popular Japanese desserts. The program, which allows children to have fun while learning, is full of frozen food quizzes and videos that they otherwise would never see, even on an actual tour. In that way, the program teaches the students about Nichirei Foods' careful approach to manufacturing and the merits of frozen food.
This is a fun on-site presentation where you can see the intent gazes and smiling faces of the children as they watch the videos.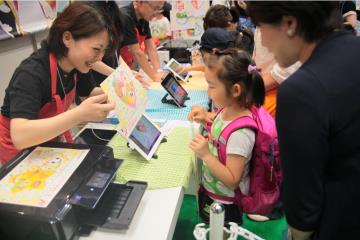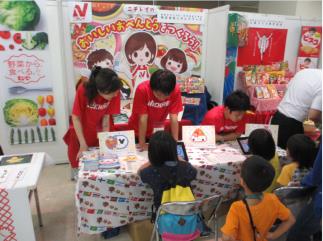 FamilyApps* is a smartphone application that families can enjoy together.
We have distributed an app, called Let's Make a Delicious Nichirei Lunch!, that enables you to make lunches using Nichirei Foods' frozen products.
The content, which allows kids to have fun while making lunch, helps deepen their interest in, and concern regarding, food. In addition, information about the lunches made by children can be uploaded to a special page on Nichirei Foods' website that shows pictures of the lunches.
* The app is offered by Tomy Ibis, and Wao! Corporation.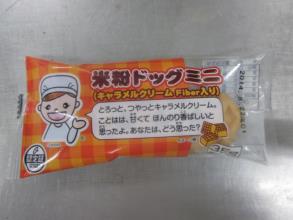 Based on our desire to use delicious flavors to put a smile on people's faces, we have dubbed various foods using terms that aptly describe them, such as fluffy, crisp, smooth, and juicy. We hope these will serve to stimulate communication.
We have used our food education character Kotoha-chan to festoon our product packaging with our flavor-laden terms.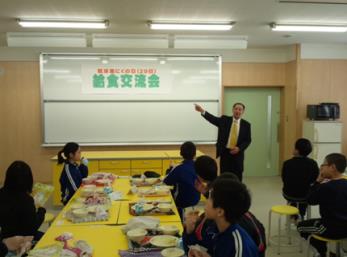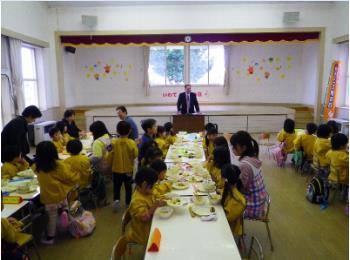 Food education classes are organized in elementary schools and preschools in the town of Karumai using a dish we call Fresh Chicken Karumai.
In the classes we present easy-to-understand information that includes the following: Iwate Prefecture boasts the nation's third-highest production of poultry, after Miyazaki and Kagoshima Prefectures; our company's Junwakei breed of chicken is raised on feed rice produced in Karumai; and the guano from Junwakei chickens is used as an organic fertilizer for the feed rice.
In addition to teaching the children about the production cycle, they are served Junwakei chicken in their school lunch that day. We will always value opportunities such as these to connect with people in the region, as we continue to develop attractive business opportunities.
2.Logistics-related education
Lectures offered at universities
Students during a lesson.
The Nichirei Logistics Group offers a program through which it sends instructors to universities to give lectures on chilled food logistics, covering the distribution process involved in delivering everyday food products from producers and suppliers to consumers. Videos are used to give students a behind-the-scenes look at the importance of chilled food logistics for large retailers and restaurants. The instructors work hard to have the students appreciate the importance of food logistics for people and communities.
Internships in the logistics industry
In 2014, the Nichirei Logistics Group for the first time took part in the logistics industry internship program, hosted by the Japan Association for Logistics and Transport. The program, which is implemented every year, was originally created to allow university students to get a broad view of, and experience in, the logistics industry.
On the first day of the internship, we gave a presentation on the Nichirei Logistics Group's business, followed by discussions concerning food logistics and tours of logistics centers. Students who attended told us that this opportunity had enabled them to understand the importance of food logistics, and that it increased their interest in logistics as a commercial activity to transport goods to customers.
We will continue to participate in tertiary-level courses, to further broaden the appeal of the logistics industry.
3.Workplace tours and job experience
All Nichirei Group member companies offer work experience opportunities for junior high school students.
There is also a limited intake of elementary and junior high school students wishing to attend social studies field trips to logistics centers.
Some members of a field trip
The Nichirei Logistics Group welcomes local elementary and junior high school students who wish to visit its logistics centers. The tours enable students to experience cold storage facility temperatures (below -20°C) and hear from employees about how product is moved, thereby gaining a better insight into the food logistics industry.。
Food and Logistics Education Making Use of Business Characteristics