Environment management
The Nichirei Group, comprising a wide variety of different businesses, promotes the design of environmental policies adapted to the business characteristics of each member company, as well as highly effective environmental activities. The initiatives of each company are reported by the Group Environmental Preservation Committee, which meets three times a year. The environmental preservation strategies and policies of the entire Group are determined based on the content and progress of company initiatives.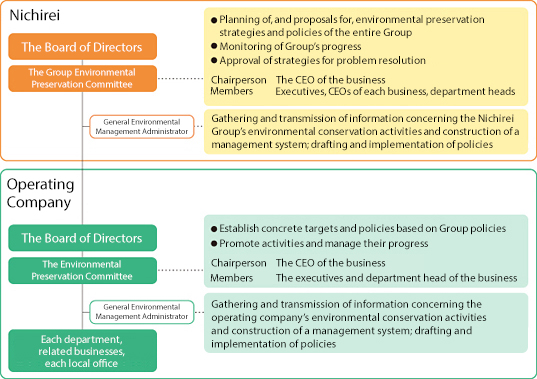 In-house environmental education
Name

Content

Environmental e-learning
Held since FY2010 for all employees.
Held twice a year on such pressing issues as prevention of global warming, resource recycling, and biodiversity.
Campaign to save energy in employee households
Energy-saving campaigns for employee households have been held since FY2012, to improve employees' awareness of the environment.
The aim is to have participants share energy-saving tips, and have energy consumption reduction targets.
Training for new employees
They are taught about the company's environmental policies and goals, and the connections between business and the environment.
Hands-on training on company land in Urabandai
Hands-on training for employees has been held on company-owned land in the Urabandai region of Fukushima Prefecture since FY 2014.
There they help eliminate the Signal crayfish, a specified foreign organism, as well as go on hikes in forests surrounding company land.
Hands-on training to support the Cypripediem macranthos, an endangered orchid, in the town of Fujimi, Nagano Prefecture
We have helped restore the endangered Cypripedium hotei atsumorianum-Fujimi, Nagano Prefecture's Cypripedium Restoration Conference-since they were established. The town of Fujimi conducted a hands-on environment-related training program for our employees that included activities for the protection of the Cypripedium macranthos.
Participating in activities to protect the Cypripedium allows one to experiencing the difficulty of restoring the balance of nature once it has been destroyed.
Hands-on training (Biodiverse forests)
As part of the Good for lunches! Good for the forest! Program which protects biodiverse forests, we hold a hands-on nature training program for employees in forests we support.
Certification
The Nichirei Group is seeking ISO14001 certification for its food factories.
It has been certified for 8 directly operated and subsidiary factories.
The Nichirei Logistics Group has obtained Green Management Certification.
Environmental audits
In addition to covering areas such as organizational management and business processing, the Nichirei Management Auditing Department also does Group management audits of important areas, such as compliance with environment-related law and conservation activities.
Local offices that have obtained ISO14001 certification undergo internal environmental audits as well as yearly external reviews by a registered external review body.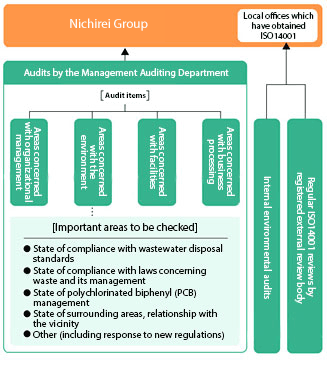 Status of environment-related incidents, legal violations
In FY2019, there were no legal violations or environment-related incidents that had a serious impact on the environment.