We continue to supply Japan with food through the nation's biggest food logistics network.
The main merit of food freezing technology is that it can almost completely stop the decay or deterioration of food. Freezing places microbes in a dormant state, while flash freezing-a process that causes minimal cell destruction-ensures the retention of the high quality that foods have prior to freezing. Moreover, the pre-freezing quality can be maintained over an extended period if foods are stored in temperatures below -18°C.
In short, freezing reduces overall food loss, helps keep prices stable, and ensures that food supplies remain stable.
The Nichirei Logistics Group, with its involvement in ice-making and the cold/frozen storage business, supported the increased food demand that accompanied Japan's post-war rapid economic growth, equipped the cold chain (delivery of foods-such as meat, fish, eggs, and vegetables, which spoil at room temperature-at low temperature all across Japan), and contributed to the improvement of health standards during the 1960s. With food logistics growing increasingly complex and sophisticated, as a result of the changes being wrought in society through globalization, demands for effective use of energy and food resources continue to expand, as do those for services.
Transportation and delivery
The Nichirei Logistics Group is committed to benefiting its partners through joint shipping, which increases efficiency by combining the loads of several companies.
Thus, by consolidating the inventories of several manufacturers in one cold storage facility, and delivering together all items destined for the same location, it is possible to reduce the environmental impact and the burden on our partners.
One form of joint shipping
Transfer Centers (TCs)
Joint shipping for three frozen food manufacturers
The Nichirei Logistics Group has undertaken various joint distribution projects, including deliveries to large supermarkets and underground food sales locations in department stores as part of the joint shipping and TC work for ice cream makers. Recently, we have been emphasizing joint logistics for processed food manufacturers. Through joint inventory and shipping operations, we are providing increasingly efficient logistics, eliminating pick-up and delivery work for each warehouse that means efficient, single-batch goods deliveries for our customers. Meanwhile, fewer vehicles and less downtime result in less impact in terms of noise and emissions, with 10-20% less CO2 emitted than before. Since FY2014, the transition to joint logistics has been underway for three frozen food manufacturers (Nippon Suisan Kaisha, Ajinomoto Frozen Foods, Nichirei Foods) in the Hokkaido, Chubu, Chushikoku, and Kyushu regions. In FY2010, we transferred the joint storage facility from Osaka to Hiroshima, thereby expanding the joint shipping area from Shikoku to the entire Chushikoku area. This resulted in a drop of some 28% in shipping-related CO2 emissions in the Chugoku region.
Expansion of joint logistics to the Chugoku region
Regular service-related operations
Our services include regular product restocking in the Chushikoku region (Osaka → Hiroshima), joint shipping for deliveries in Shikoku (Hiroshima → Shikoku), and product restocking from production facilities in the Shikoku region (Shikoku → Osaka), all of which services previously were undertaken separately by each company. To further reduce CO2 emissions, we have adjusted loading and unloading times, as well as the number of vehicles that travel empty, .
In storage
Nationwide, the Nichirei Logistics Group currently operates warehousing and distribution centers with cold storage facilities in approximately 80 locations. The total capacity of these facilities is approximately 2 million tons, or some 10% of the nation's cold storage facilities. To optimally store goods, the temperature in all of our cold stores is managed automatically.
In addition to delivering safe foods when and where our customers need them, our cold storage facilities are environment friendly.
The long-term storage of frozen food allows supply to be adjusted to meet demand, without loss of quality
Initiatives for CO2 emissions reduction at cold storage facilities
Activities at the Higashi-Ogishima logistics center
・High-efficiency freezing system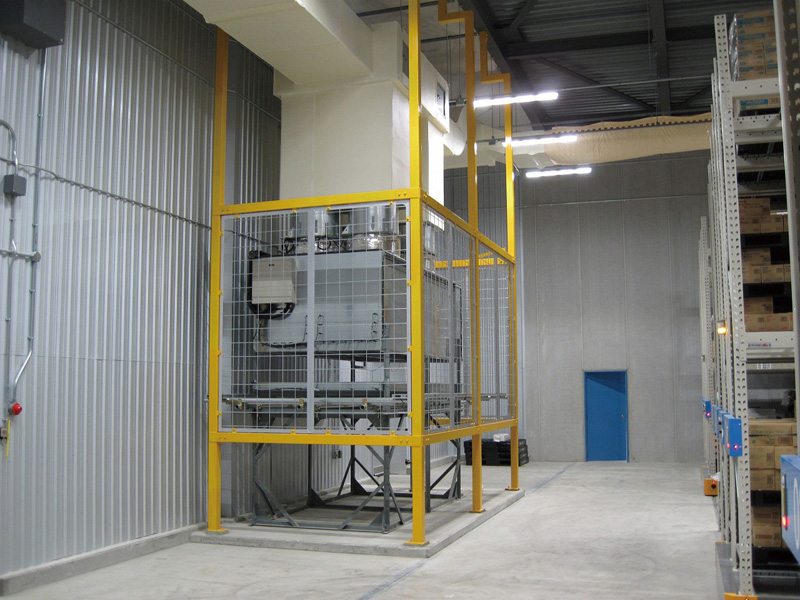 We have a highly efficient freezing system with equipment that ensures optimum freezing and controllers that lower condensation to the minimum level. This has resulted in a roughly 20% drop in the energy used, which should reduce annual CO2 emissions by some 1,500 tons.
・Installation of LED lights; operating strategies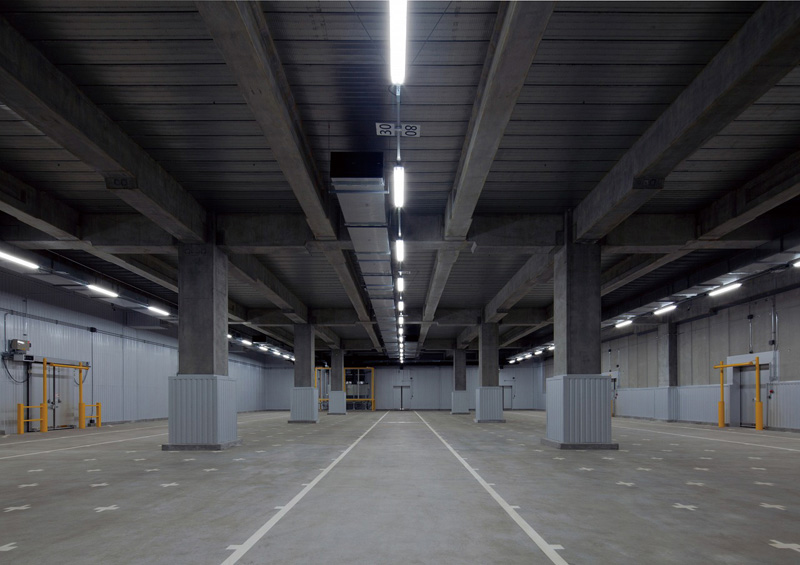 All cold storage rooms and first floor unloading areas have been fitted with LED lights. Environment-friendly, they light up immediately, even in low temperatures.
By installing remote-controlled light switches on forklifts, we have made it possible to turn off all lights when operators are not working, thereby vastly reducing our electricity consumption (daily lighting time cut from 12 hours to 2.4 hours). In addition, by slightly dimming lights in cold storage rooms and using high volume LED bulbs for forklift headlights, we use 30% fewer lights while maintaining the illumination necessary to work. We expect CO2 emissions to decline about 70 tons per year.
・Using natural coolant in freezing equipment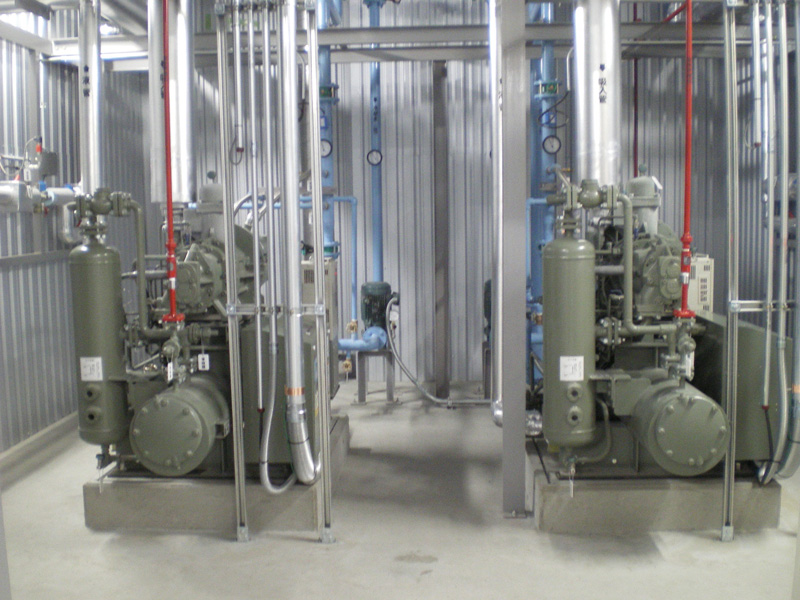 We are installing energy-saving natural coolant freezing equipment that uses ammonia. This has an ozone layer destruction factor and global warming factor of zero.