Initiatives in retail stores and customer-related areas
Some sales proceeds support forest preservation
Nichirei's CSR activities include the purchase of forest credits issued by the Forestock Association to support the forest preservation activities of the selfsame association.
In gratitude for the earth's abundance, which provides the ingredients for our products, Nichirei Foods began a program to protect and develop our forests. As of March of 2014, part of the proceeds of the program-called Good for Lunches! Good for the forest!-go for the purchase of CO2 credits. Purchasers can support forest maintenance and preservation for a week, with two packs covering approximately one square meter of forest.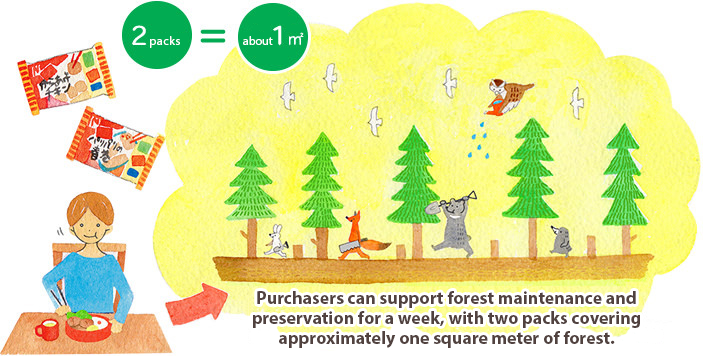 Eat Nichirei Fresh Oysters; Protect Hiroshima's Forests and Ocean!
As part of our activities to passing on the earth's abundance to future generations, Nichirei Foods purchases credits in the amount of partial proceeds from the sale of the Hiroshima oysters we offer. Those payments are used for preservation activities in the town of Akiota, in Sandankyo Gorge's Tatara Forest, in Hiroshima Prefecture.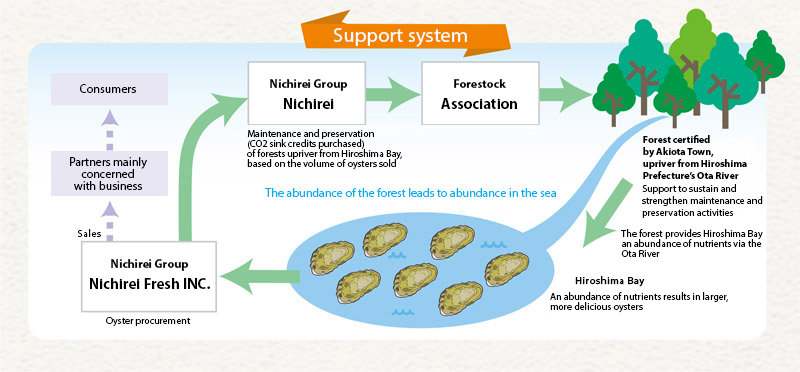 Expanding Indonesia's mangroves
Nichirei Fresh is reducing its environmental impact through its procuring activities. By practicing sustainable procurement and supply, the company protects the abundance of the earth, which is the source of food and good health.
Bearing this in mind, we are helping to expand Indonesia's mangrove forests through the procurement and sale of shrimp sourced there.
Personal chopsticks eco movement
Each Nichirei Foods office is taking part in the personal chopsticks eco movement, which involves switching from disposable cutlery to reusable chopsticks at exhibitions and other events.
Reducing waste by reevaluating containers, packaging
In addition to initiatives at our offices, the Nichirei Group also promotes effective use of resources in the areas of merchandise.
Reduction in use of containers, packaging
Ultrasonic sealing of plastic film packaging
The conventional film packaging of products involves the use of heat sealing. Packaging machines at Nichirei Foods' 2nd Funabashi plant use ultrasonic sealing to reduce the width of the sealed surface. This allows for a 4% reduction in the consumption of packaging film, enabling us to use 2.3 tons less film per year.
Initiatives in retail stores and customer-related areas