Initiatives at headquarters, our offices
Real-time energy monitoring at technology center
In June 2011, we introduced demand controllers to monitor electricity consumption in real-time at our technology development center. The upper limit of electricity consumption can now be controlled during periods of high demand. Controllers are also used to curb the use of air conditioners, and to evaluate the operation of storage testing warehouses used for preservation testing and the cold or frozen storage of raw ingredients and test products during the summer.
As part of our yearlong initiatives we are conducting more thorough operations management of the boilers that create the steam used in our food processing equipment.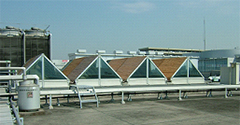 Reed Blind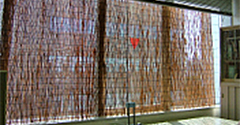 Environmental research & protection, biodiversity conservation in Fukushima Prefecture's Urabandai area
Nichirei owns land near Lake Hibara in Fukushima Prefecture's Urabandai region, and we support research on the natural environment in the surrounding areas and environmental and biodiversity conservation based on that research.
Following the 1888 eruption of Mount Bandai, all vegetation disappeared in the Urabandai area, but one can see returning vegetation: red pine forests, white willows, reeded wetlands, and aquatic plant clusters in marshlands. The red pine forests continue to spread, having been planted in the Urabandai tablelands by people who want to see the return of greenery in the area. But our company's land, as yet unforested, provides an academically valuable area for observing virgin nature as it transitions.
Nichirei has supported the research activities carried out, since FY2012, in the Urabandai area by the Natural Symbiosis and Regeneration Department of the Practical Education Promotion Center's Research Division at the Fukushima University Graduate School of Symbiotic Systems Sciences. Since FY2014, we have been supporting the Fukushima University Graduate School of Symbiotic Systems Sciences Research Division's project, to determine research models for the preservation of natural environment in transition as a natural heritage site, namely, research on humans and the natural environment (preservation of bio-diversity) in Bandai's Asahi National park. This is not limited to company land. The results of a wide variety of research-including that on plants and insects in lakes and swamps in the Urabandai area, as well as an analysis of sediment in the bed of Lake Inawashiro in the Inawashiro area-has enabled us to confirm that several species are endangered, and to learn the partial history of the formation of Lake Inawashiro. Further, the rarity of the natural environment in these areas is becoming increasingly apparent as, for example, when a dragonfly was found with characteristics that are vastly different to those known today and which has a high probability of being a new species.
In addition, we donate to the Sparkling Water Bandai Mizumirai Fund (Inawashiro Lake/Urabandai Lake Aquatic Environment Conservation Measures Association), which promotes aquatic environment conservation in Lake Inawashiro and the Lake Urabandai basin. This fund disseminates information about the association's activities, and seeks to pass along the lake Inawashiro and Urabandai wetland areas to future generations in their pristine condition by expanding the circle of understanding and support.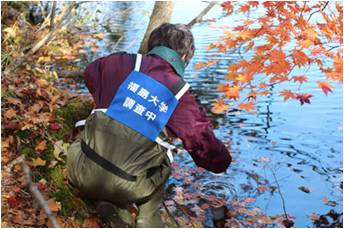 Water quality surveys in the Urabandai area wetlands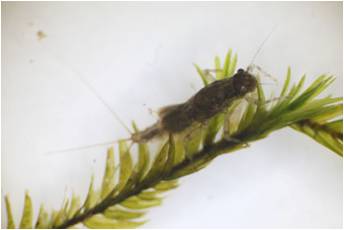 The Himeshiro dragonfly: a new species?