Initiatives in production regions
Sustainable procurement in symbiosis with nature and neighborhoods
We undertake initiatives to prevent overfishing of natural marine resources. Using Mauritanian potted octopus, for example, allows us to provide high-quality octopus ingredients while emphasizing the use of potted fish. This is less likely to damage fishing areas and lead to the harvesting of smaller octopi through overfishing.
We are working hard to develop sustainable fishing practices by complying with no-fishing periods and no-fishing standards by, for example, using both Brazilian and Mexican wild shrimp.
In addition to constantly offering a reliable supply of safe and secure foods, Nichirei Fresh Inc. will continue to develop and procure quality materials as it focuses on sustainable resources, as well as the importance of having a sustainable environment and society.
Suppression of methane gas emissions by cattle (Nichirei Fresh)
Ruminants, such as cattle and sheep, are known for their production of methane gas, which has 21 times the greenhouse effects of CO2. The gas is produced in their stomachs, released internally when their food is broken down and digested, and then release externally. Since prevention of global warming has become a worldwide issue, Nichirei is undertaking the suppression of methane gas emissions produced by cattle.
The hydrogen generated by the activity of microbes in the rumen (the first stomach) during the digestive process is turned into methane gas by methanogen, and released externally through burps. If cattle are given flaxseed oil fatty acid calcium1, the hydrogen in their rumen combines with the unsaturated fatty acids in the oil to form saturated fatty acids.
Since research results show that methane gas production can be suppressed, to this end we have been testing crossbred cattle (male Wagyu and female dairy cattle) on domestic farms since FY2010.
Using Kyoto University's life-cycle assessment method developed in 2010 to gauge fattening methods, we have been able to confirm that the environmental impact of these crossbred cattle is 10% less than when conventional fattening methods are used. Further, there is an improved omega balance2, while feed costs are lower due to the shorter fattening period resulting from improved growth3.
We are now moving toward the sale of beef produced through a nationwide rearing program using flaxseed oil fatty acid calcium. In addition to cross-breeding, we are also expanding this production method to crossbred Wagyu and Holstein cattle (bulls).
1. Flaxseed oil fatty acid calcium: A fusion of calcium with the oil extracted from flax seeds rich in alpha-linolenic acid (omega-3 fatty acid).
2. Omega balance: The balance between omega-6 and omega-3 fatty acids, which are particularly important essential fatty acids for the human body.
3. This results from the development of low-cost techniques for cattle production, based on a superior balance of omega-6 and omega-3 fatty acids, and the subsequently reduced environmental impact. Source: Ibaraki Prefecture Hitachiomiya Regional Agricultural Research and Promulgation Conference report, 2011.
Methane Gas Production by Cattle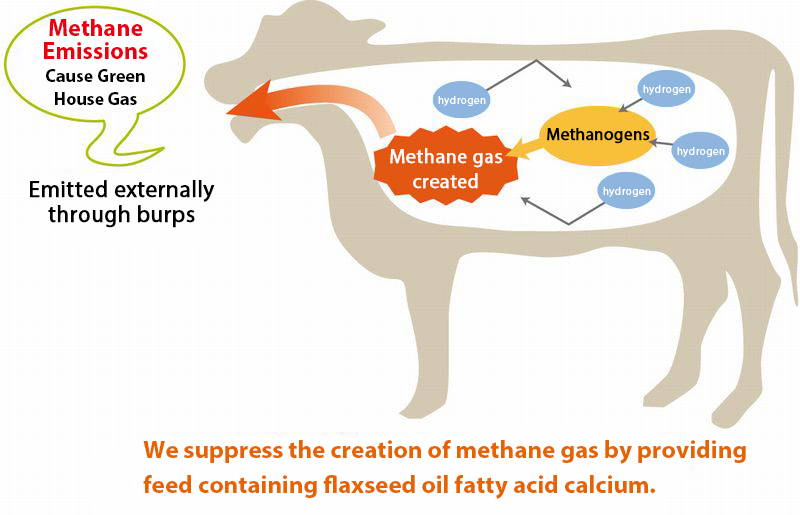 Evaluation of impact on global environment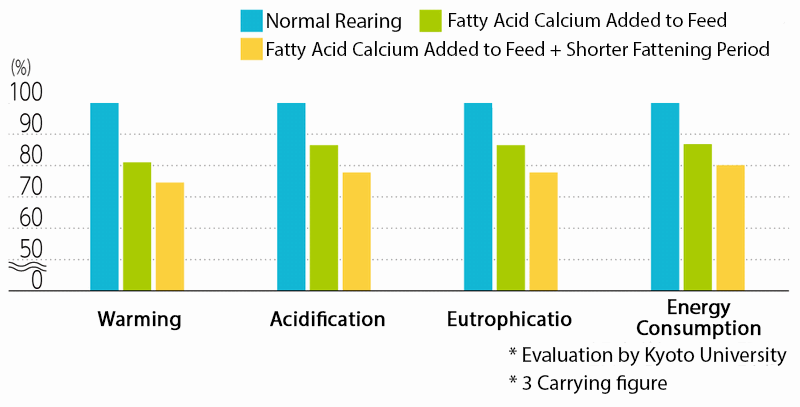 Promoting Integrated Crop-Livestock Production
The food residue and chicken guano received from factories and food material production facilities can be recycled as feed and fertilizer to reduce waste and make effective use of resources.
The Nichirei Group, which uses feed and fertilizer recycled from food products to produce food, aims to establish a food cycle involving livestock and humans. At Nichirei Fresh Farm Inc., set up as a poultry farm for the production of purebred domestic Japanese chickens, we are collaborating with local residents to build a regional recycling production system using chicken guano.
Nichirei Fresh: conservation projects in North Kalimantan
Marine life- and forest-related issues
In the province of North Kalimantan, on the Indonesian island of Borneo, the natural environment is being destroyed by the expansion of plantations, afforestation, and shrimp farming. The rapid increase in the number of shrimp farms is destroying coastal forests and mangroves. While the flat coastal areas are well suited to aquaculture, the resultant major changes in the marine and forest habitats threaten wildlife species with extinction.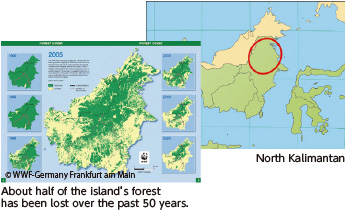 Help via the Forest of Life Project
In 2006, responding to concerns over the loss of mangroves in North Kalimantan, Nichirei Fresh initiated the Forest of Life Project in cooperation with its local supplier, PT. Mustika Minanusa Aurora and the city of Tarakan, on Tarakan Island. The project enables contributions to be made from a mangrove conservation fund operated by Mustika Minanusa Aurora, which donates a portion of its revenues from sales of shrimp harvested using traditional methods. Tree-planting and other ecosystem conservation activities in the city thus are being augmented by shrimp harvesting methods that place a lower burden on the environment.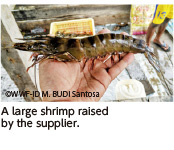 Nichirei Fresh backs Yellow Sea Ecoregion conservation project
Environmental, wildlife issues threatening Yellow Sea
As one of the world's largest areas of continental shelf, the Yellow Sea has many tidelands along its coast, is home to abundant fishing grounds, and is an important stopover site for migratory birds.
However, its biodiversity is being negatively affected by a number of serious problems. Coastal wetlands, for instance, have largely disappeared due to landfills, land reclamation, and other developments over the past 50 years. Moreover, marine life has declined sharply as a result of overfishing, and tideland development has impacted the movement of migratory birds.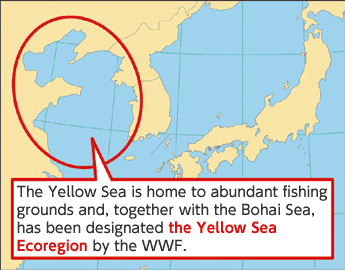 Support for the Manila Clam Fishery Improvement Project
Nichirei Fresh has been involved in a Yellow Sea Ecoregion conservation project in cooperation with the Chinese and Japanese branches of the WWF. As such, it is a participant in the Manila Clam Fishery Improvement Project, which promotes sustainable manila clam harvesting through the use of low-pressure pumps and digging by hand in an effort to help protect the environment and marine resources in the Yalu River estuary of Korea Bay. The goal of the project is to help a local fishery acquire certification from the Marine Stewardship Council (MSC)* while working to protect the biodiversity of the Yellow Sea.
* The MSC certifies seafood products that meet standards for sustainable fishing.