Initiatives at cold storage facilities, logistics centers
Preventing refrigerant leaks to boost operating efficiency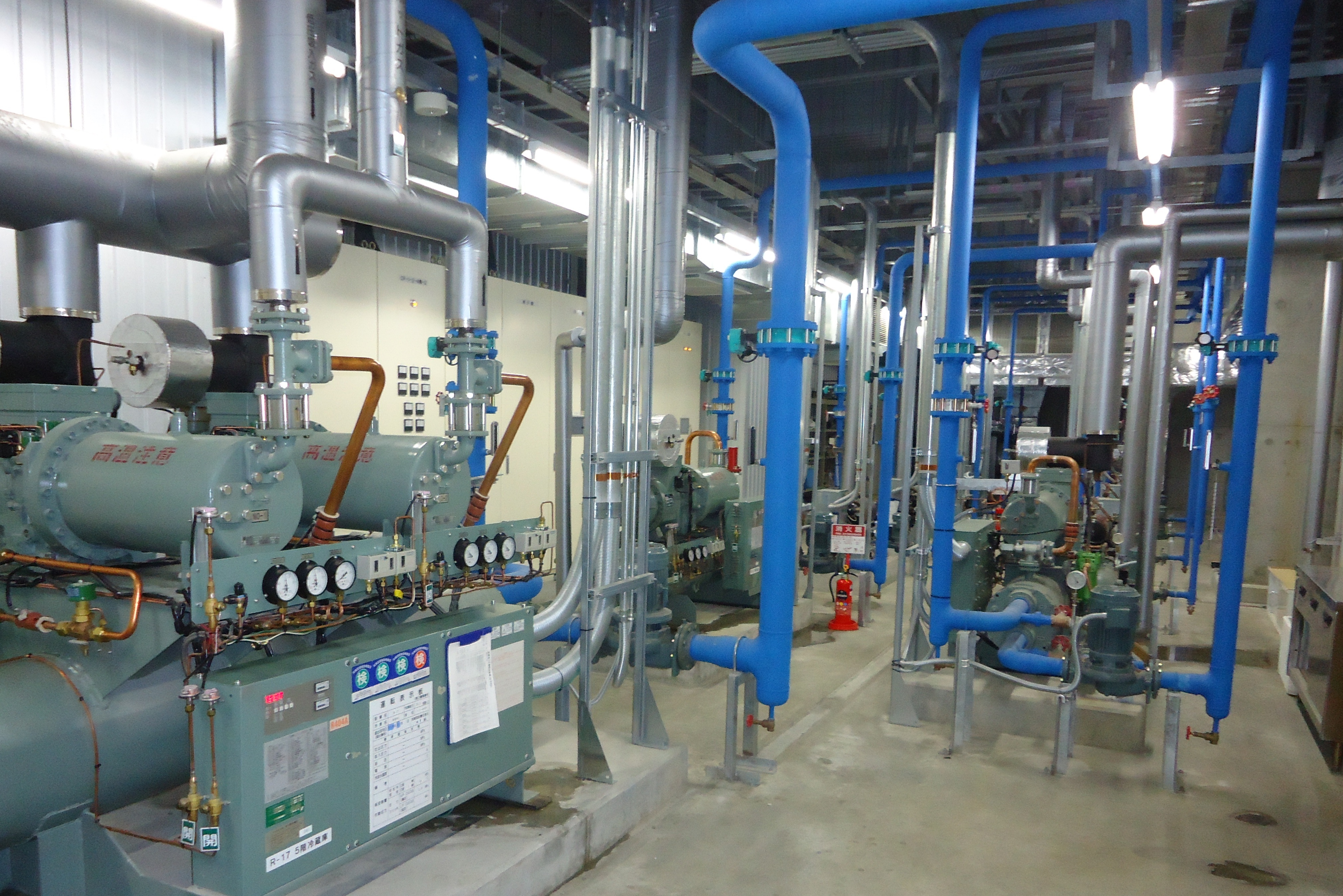 The Nichirei Logistics Group is stringently checking equipment to reduce refrigerant leaks at all domestic centers.
In FY2014, we installed high-sensitivity detectors, which are 10 times more accurate than those previously used, and can detect even minor leaks. By managing the amount of refrigerant used and eliminating leaks, we can achieve near-optimum equipment functioning.
At the same time, we are working to avoid the unnecessary use of electricity. We have non-regular staff carry out inspections, since they notice energy-saving points that regular staff may overlook.
Inspections of energy-saving installations and refrigerant are conducted in parallel, since the efficient use of both contributes to CO2 reduction and the prevention of global warming.
Use of Natural Refrigerants
At its cold storage facilities, the Nichirei Logistics Group is promoting a switch from refrigeration equipment using hydrochlorofluorocarbons (HCFCs) to that using natural refrigerants. As a matter of policy, the Group chooses natural refrigerants when building new cold storage warehouses and extensions to facilities.
Facilities Upgraded to Natural Refrigerant Equipment

Program Providing a Subsidy for Upgrade

FY2014
Logistic Network Sugito TC
Subsidies for businesses that rationalize energy usage
FY2015
Nichirei Logistics Kansai Sakishima DC
SCG Nichirei Logistics Co., Ltd.
-
FY2016
Logistic Network Funabashi DC 8th Expansion Building
Nichirei Logistic Tokai Shiratori DC 8th Expansion Building
Program for applying advanced technologies to promote wider application of equipment using energy-saving natural refrigerant
FY2017
Nichirei Logistics Chushikoku Takamatsu-Nishi DC 2nd Building
Nichirei Logistic Tokai Haruhi DC 2nd Building
Logistic Network Funabashi DC 4th and 9th Building
Program for applying advanced technologies to promote wider application of equipment using energy-saving natural refrigerant
Activities with European logistics
The Nichirei Logistics Group's overseas business began with its expansion into the Netherlands in 1988. As of March 2014, Nichirei Holding Holland B.V. has six companies - including cold storage facilities and low temperature shipping businesses - and is expanding from its hub in Rotterdam. Logistics in Europe center on shipping by truck, reflecting the advanced state of the local infrastructure.
During the past few years, a modal shift has been promoted in the interests of the environment, resulting in a transition from highway truck transportation to maritime and railway transportation, making it possible to ship large volumes of goods.
Mostly, when a containership docks at Rotterdam, the containers are offloaded and trucked to a warehouse. With containerships are getting progressively larger, and it is now possible to fit 9,000 forty-foot* containers on the larger vessels. Shipping these by truck would mean using 9,000 trucks, which would generate large amounts of CO2.
Holland's Hiwa Rotterdam Port Cold Stores B.V. uses river barges to reduce its CO2 emissions when moving containers from the container yard to their warehouses. With up to 25 containers piled on one barge, some 3.5 tons less CO2 is produced than were 25 trucks used to transfer the containers. Currently there are two barge vessels in the Netherlands that have their own container cranes. Both of them are working for HIWA.
In France, Transports Godfroy owns 70 trucks and warehouses. As part of its environmental initiatives, the company introduced eco-driving training for its drivers in FY2012. Meanwhile, the social contribution activities of its shipping business include the donation to charities - of course with the permission of the consigners - of goods it has had in storage that are past their use-by date.
* 40 feet = 12.192 meters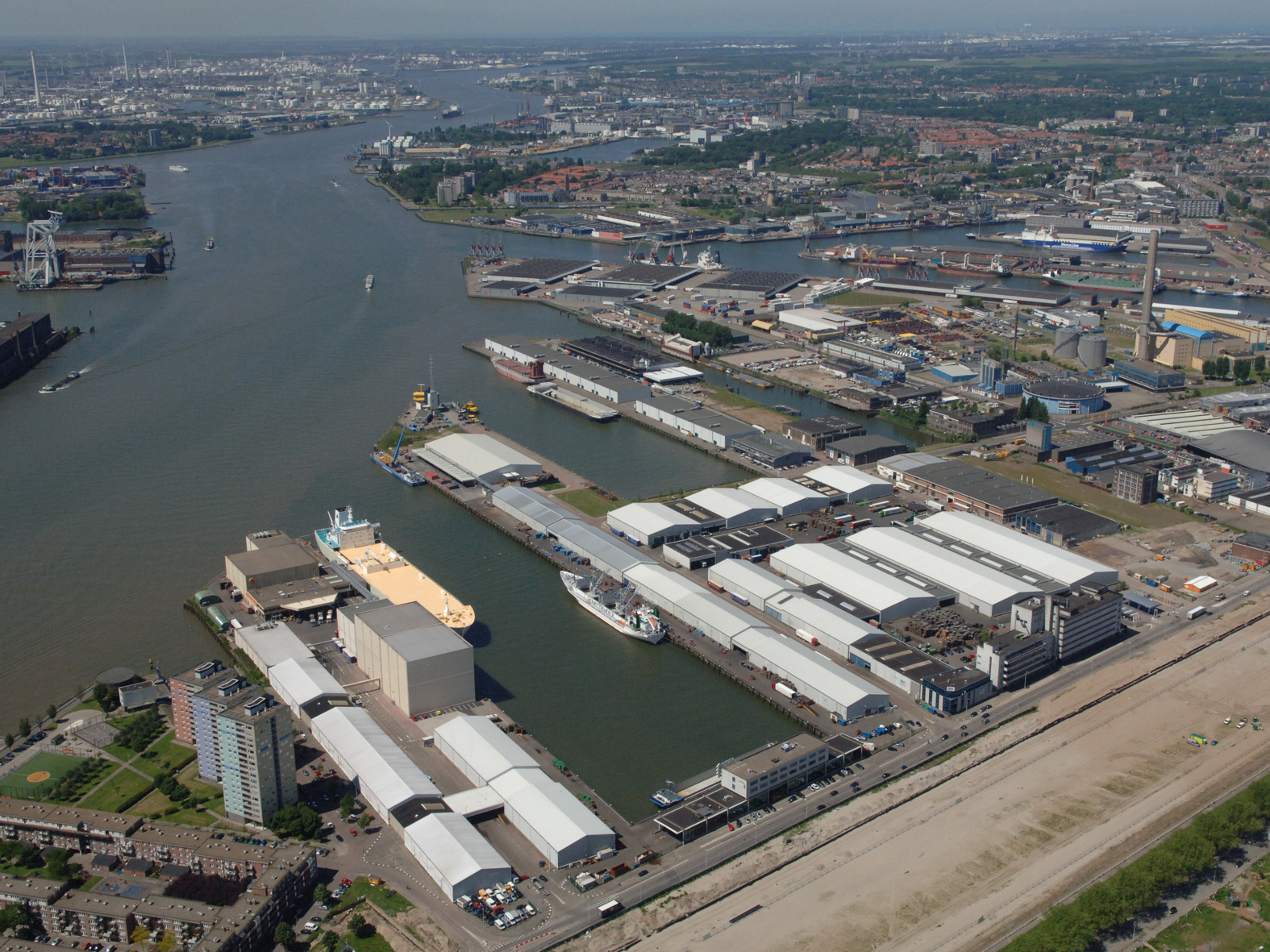 Hiwa Rotterdam Port Cold Stores B.V.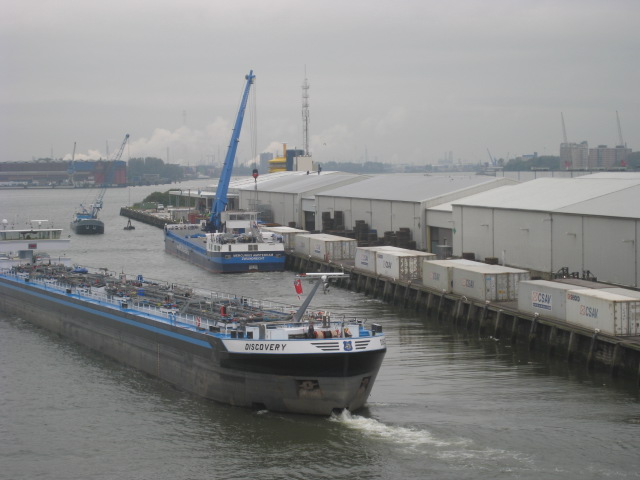 River barge
Optimal Logistics for CO2 Reduction
Nichirei Group cutting logistics-related CO2 emissions
Shipping-related CO2 emission cuts seen as important priority.
In FY2017, although Nichirei Foods continued to make greater use of ferries for product shipments, cargo volume was below the previous fiscal year's amount, as a result of periods when ferry shipments could not proceed as planned due to poor weather and other factors. Meanwhile, some cargo shipments between the Kyushu and Hokkaido regions were shifted to rail, resulting in the increased use of rail transportation for shipping.
In FY2018, Nichirei Foods continues to promote a modal shift in its long-distance shipping operations.
The Nichirei Logistics Group believes that contributing to the lives of consumers by shipping food is their most important duty. Using the best logistical solutions, such as transfer center functions and joint shipping, they are undertaking to provide consumers with optimal logistical efficiency, while also reducing CO2 emissions.
In addition, to increase shipping efficiency the Group is reducing the number of trucks it uses. This it can do thanks to increased loading efficiency, the improved circulation of vehicles, and reduced downtime. The change reflects a softening of delivery requirements (shipping timeslots, locations), which result in reduced CO2 emissions.
Corporate collaboration for more efficient energy consumption
The Nichirei Logistics Grop is working to reduce electricity consumption during product storage, as well as CO2 emissions and fuel consumption for transportation and production by increasing the efficiency, across the board, of the supply chain involved in logistics, production, and storage.
Thus, both Nichirei Foods and Hokkaido Foods, one of the former's sub-contractors, secured safety stock in order to prevent inventory shortages and the only partial sharing of information. In addition, the business fluctuations in production and shipping caused by sales resulted in a major burden for both companies' supply chains.
In FY2010, The Nichirei Logistics Grop took over control of Hokkaido Foods' logistics and introduced several improvements. The result of their study of the business fluctuations of the logistics side of business, which had been an ongoing problem right from the beginning, led to a suggestion that there be collaborative management between three companies. This would cover operational information, sales plans, re-stocking and inventory plans, production plans, and even shipping plans, aimed at leveling out logistics. FY2012 saw the start of the three companies' improvement project begin. In October of 2012, it went into full operation, and improvement activities continue to this day.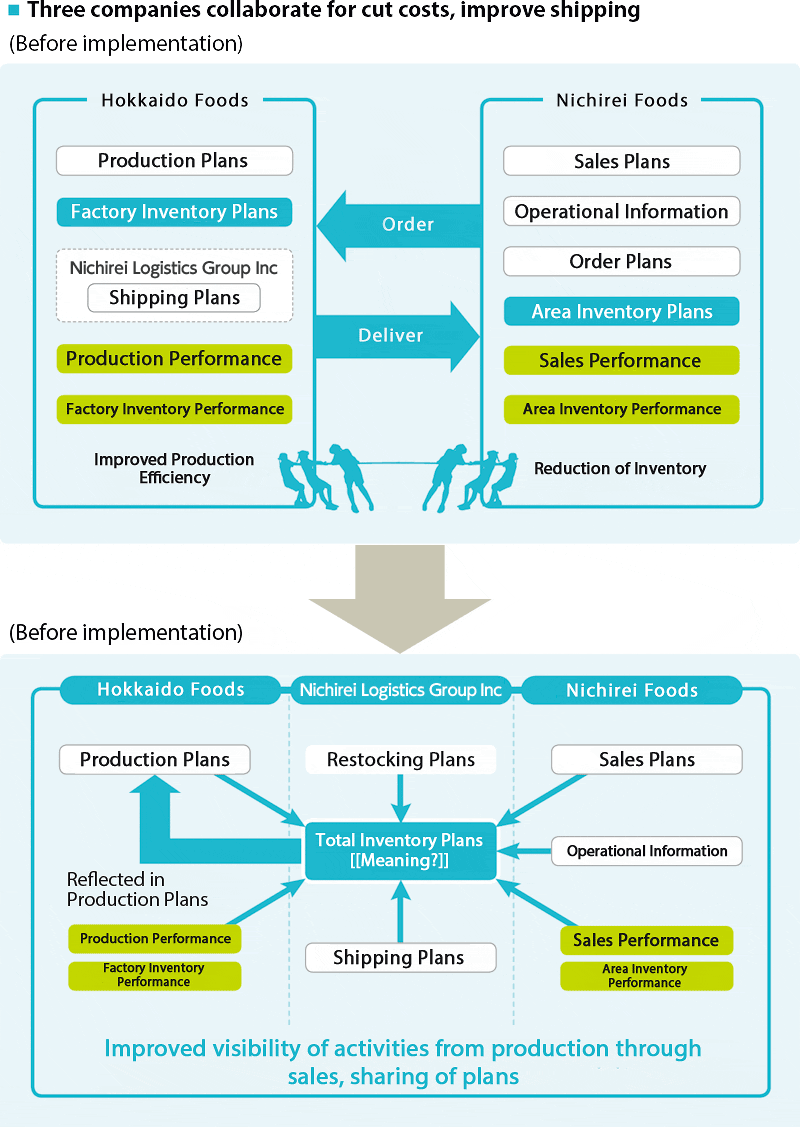 ■ Initiative
1.3 Use groupware to make essential information of all three companies transparent; change to a comprehensive management system through daily data sharing and by linking production, inventory, and shipping planning.
2. Switch from Nichirei Foods' restocking plan; prioritize reducing logistics center stock; and restock, taking into account the efficiency of consolidated shipping and production.
■ Results
●Reduction of total inventory (down 25.7%)
●Leveling of logistics
●Improvement in loading efficiency
●Elimination of frequent shipping (restocking) and small lots
●Reduction of energy consumption at cold storage facilities and food factories
●Improved productivity
●Less clerical work
Green Management Certification
NK Trans is working to reduce the environmental impact of its business activities to better co-exist with society as a transportation business. It thus considers environmental conservation to be part of its corporate social responsibility.
In addition to complying with such environment-related laws and regulations as pollution prevention ordinances, NK Trans promotes eco-driving and use of the idle-stop system, in addition to the use of low-emission vehicles, and compliance with the relevant waste disposal laws.
As a result, the Numazu Logistics Center obtained green management certification in January 2012, while the Niiza Office (transportation) obtained it in March 2014.
We aim to move through the PDCA cycle - based on the four-step concept of plan, do, check, and act - to effect continuous improvement in quality and expand the number of certified local offices.
In addition, Kyokurei's main office and logistics centers (in the Tokyo districts of Daikoku, Yamashita, Atsugi, and Nakai), have obtained green management certification
* Green management certification: The certifying organization, the Foundation for Promoting Personal Mobility and Ecological Transportation, conducts evaluations, certification, and registration of workplaces that carry out initiatives above a certain level, as defined in the Green Management Promotion Manual, published by Japan's Foundation for Promoting Personal Mobility and Ecological Transportation.