1. Creating New Value and Revitalizing the Company
With the economic environment undergoing major changes and uncertainties clouding the future, we are undertaking diversity management Group-wide in order to bring diverse human assets into our organization and create new value.
2. Diversity Promotion Conference and Workplace Improvement Conference
One of the items in the Nichirei Pledge is to "continually enhance our workplaces." Bearing this in mind, the Group Human Assets Committee holds a conference twice a year, as does the subordinate Diversity Promotion Committee, in collaboration with management and labor unions.
The committee studies and oversees measures taken by all companies in the Nichirei Group, particularly initiatives related to job satisfaction, diverse work styles, and the human rights of all employees.
The measures include support for women's success in the workplace, employment of foreign residents, allowance for work styles suited to different life stages and ages, as well as employment of, and cooperation with, people with disabilities. Further, in accordance with the Nichirei Group Workplace Improvement Policy, established in April 2017, the Group is striving to increase awareness and job satisfaction at each of its companies. To that end, it held a Workplace Improvement Conference to confirm progress made in implementing relevant measures at each of its companies, facilitate information sharing, and ensure the effective, Group-wide implementation of measures.
3. Main Initiatives
(1) Offering employees workplace transfer options
Nichirei Foods Inc. revised its personnel system during the fiscal years 2016 and 2017, in order to specify which employees are not subject to job transfers. In some cases, employees are unable to move to a distant location because of personal reasons, including marriage, childcare, nursing-care responsibilities, or illness.
Under the revised system, however, employees who have worked for a certain period at the company can make choices based on their career objectives. Employees now can remain at their desired workplace regardless of their reason, and can themselves decide whether they are eligible to be transferred.
The revisions were instituted out of respect for the diverse circumstances and preferences of Nichirei Foods employees, and to create workplaces in which all members are motivated to work. The resulting system is modeled on the personnel system adopted at Nichirei Biosciences Inc. in 2009.
(2) Hiring people with disabilities
The Nichirei Group hires people with disabilities as part of its policy to achieve employee diversity, and has established a subsidiary called Nichirei Aura especially for that purpose. Employing staffs with disabilities, Nichirei Aura handles a wide range of duties, such as maintaining lawns and cleaning offices, toilets, and roadsides at the Group's food production plants and logistics centers. Moreover, the employees collect and recycle trash, deliver mail, and shred unneeded documents at Nichirei Corporation's head office.
By drawing on the experience and know-how gained at Nichirei Aura, the Group is promoting the employment of people with disabilities at all of its member companies.
Beginning in April 2018, corporations will be obliged to employ people with intellectual disabilities and, in an effort to surpass the legally mandated employment rate, the Group is training relevant management personnel and expanding the number of new job positions to be filled.
Participation in the Accessibility Consortium of Enterprises
Nichirei Foods became a member of the Accessibility Consortium of Enterprises (ACE), an association that promotes reforms of corporate culture and the creation of new value through diversity. This includes participation by people with disabilities, in order to help realize an inclusive society.*
ACE is active in setting up new models, enabling companies to grow by employing people with disabilities, and in raising awareness the reason companies need such workers. Members of the consortium share information in order to promote human resources strategies for diversifying their respective workforces.
* According to ACE, an inclusive society is one in which all people have equal opportunities and can play an active role regardless of whether or not they have a disability.
(3) Support for female employees, dispatch to J-WIN
Nichirei Foods participates in the activities of the NPO J-Win (Japan Women's Innovative Network). J-Win is a community in which women, aiming for management positions and with diverse careers, can meet across industrial and positional lines. In addition to thinking about issues for women's continued pursuit of work and what companies can do to promote diversity, this group aims to promote diversity and women's participation in each member company by providing feedback regarding the activities of each company. J-Win dispatches female employees, provides women to take part in career development, and encourages the study of both local models and the overall participation of women at Nichirei Foods.
Capable female employees have reached important positions in the past, but there were a particularly large number of women working in managerial and lead departmental positions in FY2015. This is also true of FY2016. Up to now, the female employee development initiatives have borne fruit, the women promoted having produced solid results, and continuing to grow as human assets who lead the company.
Nichirei Foods will continue to encourage women's participation in the company, in order to benefit from their presence and create new value.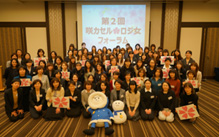 In January 2020, 70 women attended the Nichirei Logistics Group's 8th forum for women working in logistics. This is part of the Group's ongoing efforts to promote the advancement of female employees. Presentations outlined career successes and issues remaining to be addressed, while female participants representing various career paths took part in a panel discussion in which they shared opinions concerning different approaches to their jobs and the creation of a comfortable workplace for women.
At the same time, department heads from each Group company participated in a training program led by experts covering management approaches needed to facilitate the advance of female employees. In addition, the Nichirei Logistics Group's intranet has twice-monthly announcements concerning women involved in logistics. It provides updates on events and information about the activities of female employees, thereby helping raise awareness throughout the entire Group.
Through its promotion of the advancement of women in the workplace, the Group hopes to ensure that all employees can thrive in its workplaces.
Joint seminars promote the role of women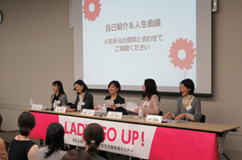 Panelists at the seminar on women's empowerment
jointly held by Nichirei Foods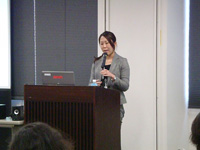 A speaker at the networking event
jointly held by Nichirei Logistics Group
Nichirei Foods Inc. and Nichirei Logistics Group Inc. have joined other companies in holding seminars to promoting the participation of women in the workplace.
Nichirei Foods held a seminar on women's empowerment together with other Japanese food product manufacturers, namely, Lotte Co., Ltd., Morinaga & Company, Ltd., Morinaga Milk Industry Co., Ltd., and Nisshin Seifun Group Inc. (names in alphabetical order). Female employees from each of these companies participated in workshops and a panel discussion, through which they closely examined issues related to career development.
Meanwhile, the Nichirei Logistics Group held a networking event on corporate diversity, together with AEON Co., Ltd., Hitachi Transport System, Ltd., Sagawa Express Co., Ltd., and Softbank Corporation (alphabetical order). At the event, a number of issues were discussed by the participants, who included personnel managers from each company as well as government officials from the city of Yokohama and the Ministry of Health, Labour and Welfare.
To create new value as an organization that enables a diverse workforce to thrive, the Nichirei Group hopes to effectively manage and utilize its diverse workplace.
(4) Nichirei Foods' global human asset initiative
Nichirei Foods is promoting the hiring and development of global human assets, based on its overseas business strategies.
In addition to hiring new graduate exchange students from China, Thailand, Indonesia, and Vietnam, we are also strengthening our hiring of human assets who have studied overseas and have an interest in the world outside our doors. Then, to work overseas, we are also promoting the hiring of mid-career human assets with experience and ability. Diverse human assets are making use of their own experiences to create goods and services that meet their values, and undertaking the resolution of consumer problems.
In terms of human asset development, Nichirei Foods is seeking people who can play a role both domestically and overseas; we do not see them as simply overseas personnel. The company is implementing a global human asset development program based on this line of thinking.
(5) Meetings for working mothers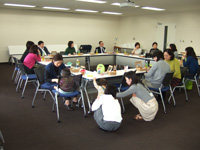 Since FY2015, Nichirei Biosciences Inc. has periodically held meetings for working mothers in order to provide support for employees returning to work following maternity leave or childcare leave. For Nichirei Biosciences, the generations of employees who are responsible for raising children are the same generations responsible for the company's core business. Therefore, effectively ensuring the work-life balance of those employees is considered essential for improving the company's performance.
In that context, the meetings for working mothers provide opportunities for company employees who are raising children to share information over lunch, and frankly discuss their experiences. In FY2017, employees on childcare leave participated in a meeting together with their children. and all of the members discussed the challenges they face in balancing childcare and work.
These meetings are scheduled to continue, in order to help female employees play an active role in the company.